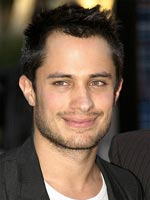 Just over a week away from the announcement of the official selection for this year's Cannes Film Festival, and any festival-related news is received gratefully by the blogging community. Today, those who deemed Tim Burton too "Hollywood" a choice as this year's jury president might be appeased by a host of more arthouse-leaning names lined up for jury duty.
Chief among them are actors Gael García Bernal and Giovanna Mezzogiorno, both worthy selections to join Burton on the competition jury; that announcement surely means Bernal starrer "Even the Rain," a Spanish-language epic telling parallel stories of Christopher Columbus and Bolivia's Water Wars, will not appear in competition, as some speculated it might. Thanks to Anne Thompson for passing along the news.
More exciting to me is the news that Claire Denis, one of the greatest filmmakers at work today, will be presiding over the Un Certain Regard section, where she herself competed with "I Can't Sleep" in 1994. It's a nice gesture towards a filmmaker who isn't quite the Cannes fixture you might expect — she hasn't been represented at the fest since "Trouble Every Day" played out of competition in 2001. Atom Egoyan, meanwhile, will head up the Cinéfondation jury.
Now is as good a time as any to mention that we'll be covering the fest first-hand this year, so roll on May. Below, in case you haven't seen it yet, is this year's Brigitte Lacombe-photographed official festival poster: it's not as striking as last year's, but anything that places Juliette Binoche front-and-center is okay in my book.