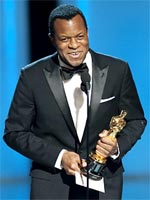 In retrospect, Geoffrey Fletcher's Best Adapted Screenplay win for "Precious" at last month's Academy Awards shouldn't have come as quite the shock it did. In the last few years, Oscar voters have been especially kind to newcomers in the writing races, with this year's pair of freshman winners, Fletcher and Mark Boal, coming on the heels of three others who struck gold for their first feature credit: Michael Arndt, Diablo Cody and Dustin Lance Black.
How do you follow that kind of debut success? In the case of many of those names, we're on the verge on finding out. Arndt has lain low since striking gold with "Little Miss Sunshine" in 2006, but will be back on the radar this summer with "Toy Story 3" — for which, unusually for a Pixar production, he has sole script credit.
Cody may have struck out with "Jennifer's Body" last year, but is having more luck on the small screen with "The United States of Tara." Boal, meanwhile, is continuing his happy partnership with Kathryn Bigelow, as the two are readying the South American-set thriller "Triple Frontier" for shooting.
The obvious next step, for some, is to the director's chair: "Milk" scribe Black is putting the finishing touches to his helming debut "What's Wrong With Virginia?," and there's a chance we may see the results as early as next month, at Cannes. Now Fletcher, the first African-American winner of a writing Oscar, is apparently wasting no time in doing the same.
Roger Friedman reports that Fletcher may begin shooting "Violet and Daisy," from his own original screenplay, this summer, with producer Wendy Finerman ("Forrest Gump") on board. Saoirse Ronan and Carey Mulligan (who appears to have recently mastered human cloning, among her other achievements) are in line to play the title roles. The project is described as "'Thelma and Louise' meets 'Superbad' meets 'Pulp Fiction,'" which rather resembles one of those meaningless pitches bandied about in "The Player," but we'll see.
Check out our interview with Fletcher here.