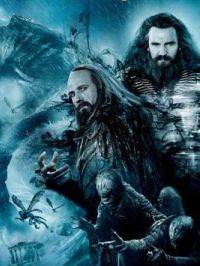 *All historical figures cited are adjusted to today's dollars.
Alright. "Clash of the Titans" is the number one film at the box office with a weekend take of $61.4 million. Is that a tally worthy of the Gods? Simply put, in my opinion, no. Let's set aside the 3D for a second and just pretend that isn't a factor. Three years ago, "300" was able to debut with $78.4 million in the wastelands of March with arguably less recognizable source material and no recognizable star power. On this very same weekend last year, "Fast & Furious" opened to $72.4 million, setting a new record for the month of April and proving that huge grosses can come on any weekend in any month.
The budget on "Titans" was huge and Warner Bros. spent a small fortune hastily adding 3D at the last minute to try and soullessly suck out a few more bucks. In the shortest of short term, this may have worked, but the word of mouth has been atrocious and a lot of it has to do with the 3D so I expect this to drop like a rock and barely finish around $125 million. With overseas markets, that'll be enough and yet another lifeless remake earns its stripes thanks to you (if you saw it).
Far more impressive, is the $30.2 million start of "Why Did I Get Married Too?" Tyler Perry's movies have been the height of consistency, with his Madea titles earning $30 million plus and his Madea-less dramedies earning in the low $20 million range. Now he's bucked the trend and proved that he doesn't need a fat suit to register huge numbers. Seriously, there's nothing harder than opening a drama about adults to $30 million. And that is why Lionsgate is changing their name to Tyler Perry's Lionsgate.
Miley Cyrus's agent heard something about Nicholas Sparks being the new John Grisham and now we have "The Last Song." Barely a month after "Dear John" milked the same cow for the same crowd, Miley still managed a solid $16.2 million weekend and $25.6 million five day opening for her troubles. With no bankable male star to help with the marketing, this is purely a victory for the Cyrus machine and proves she can have a career outside of her Hannah Montana persona, for a few years at least. I still wouldn't count out a straight to video title with a topless scene in t-minus four years.
"How to Train Your Dragon" survived the potential cannibalization of 3D screens by dropping a slim 33% and upping its cume to $92.3 million in 10 days. Any fears over the soft debut can be wiped away, as this should play like gangbusters through the rest of April and could finish as high as $175 million. According to our commenters, it would be richly deserved.
Elsewhere, "Alice in Wonderland" crossed the $300 million barrier, passing "Batman Returns" in the process to become Tim Burton's second biggest film ever, behind the first "Batman." "Hot Tub Time Machine" fell a better than expected 43% to keep it respectable and "Greenberg" had another solid week in limited release.
I finally got out and saw a flick this week, plopping down $9.75 at the Landmark for "The Art of the Steal." Another big disappointment, filled with every documentary cliché in the book and way too long and one-sided. Where are all the good movies at, 2010?
Here are the weekend's top domestic grossers, courtesy of Exhibitor Relations:
Related Posts