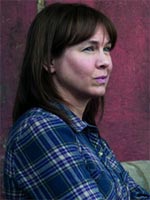 Back in 2008, I professed myself less than ecstatic at the prospect of "My Own Love Song," the first English-language effort from "La Vie en Rose" helmer Olivier Dahan, in which Renée Zellweger plays a wheelchair-bound country singer on a road trip with her eccentric best friend Forest Whitaker, in search of her long-lost son. (I believe my exact words may have been: "This could literally be the worst film of all time.")
The film opens in France next week, and while the trailer (after the cut) suggests I may have been a tad overdramatic, I can wait a very healthy amount of time to see it. I suppose we might be forced to endure a measure of Oscar chatter for Zellweger — "ZOMG it's the female 'Crazy Heart!'" — but the film is really looking to make a splash in the Best Original Song category.
The Playlist reports that Bob Dylan (a former Oscar champ for the 2000 "Wonder Boys" cut "Things Have Changed," in case you forgot) has composed no fewer than 16 original songs for the film. One of them, "Life is Hard," is performed in the film by Zellweger, and features quite prominently in the trailer.
Even at this early stage, it's hard to imagine how the Academy's music branch can resist the combo of Dylan's stature, a music-oriented film and songs performed on screen. The film has yet to secure a U.S. distributor, but watch this space.