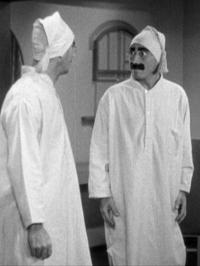 Catch up with the idea behind this series here.
1933 was the only year without an Oscar ceremony as the Academy switched its eligibility calendar around and began honoring films released from January 1 through December 31. The result was the 1934 ceremony honoring films from the past seventeen months. And still they picked "Cavalcade" as the best film from that time. Why do we care about this body again?
Song, Score and Editing were added in 1934, as was a space for write-in candidates, which lasted all of two years with "A Midsummer Night's Dream" cinematographer Hal Mohr being the only person ever to win an Oscar they weren't officially nominated for. So, in these instances, both the nominating committee and the members failed to do the right thing.
1933 – "Duck Soup" (Leo McCarey)
I once heard that you're either a Marx Brothers guy or a Three Stooges guy. It certainly proves true with me, as I can't stand the constant mugging and bopping on the head of the latter, while I consider the former to be absolute geniuses. Vaudeville caricatures, slapstick physical comedy, sophisticated zingers and showstopping musical performances are all thrown into a stew and blended to perfection in this film and its immediate follow-up, "A Night at the Opera."
The jokes come fast and furious and I'll be the first to admit that not all of them stand up to the test of time. But then you've got dialogue as sharp as this, "Here are the plans of war. They're as them valuable as your life. And that's putting pretty cheap. Watch them like a cat watched her kittens. Have you ever had kittens? No, of course not, you're too busy running around playing bridge. Can't you see what I'm trying to tell you, I love you."
Of all the verbal highlights though, the scene pictured above has to be the greatest thing in this or any other Marx Brothers film and it's a completely silent sequence. In fact, I'd venture to say it may be one of the best visual gags in cinema history. (Watch it here) The brothers grew up together and performed together since they could stand upright so their timing and chemistry was always going to be top-notch and Leo McCarey's effortless direction brought out the very best in each member.
Their brand of anarchic humor could be traced back to the great silent clowns but an added dose of irreverence became their trademark that has permeated through the history of comedy from early Woody Allen to "Airplane" to "Family Guy."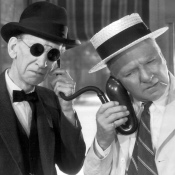 1934 – "It's a Gift" (Norman Z. McLeod)
The Academy may consistently overlook comedy but I don't. W.C. Fields was another master who never got any respect from the big show, despite a distinguished career that began as a silent film actor in, among other projects, D.W. Griffith's underrated "Sally of the Sawdust." His lovable, boorish persona is the archetype that nearly all sitcom husbands owe a debt to and his precision timing made him adept at both physical and situational humor.
Fields plays a grocer, constantly being annoyed by either his wife, the neighbors or some bratty kids, who dreams of owning an orange grove out in the country. Duped into buying a plot of barren land, he has to learn to stand up for himself in order to salvage his life. The standard plot really just exists to string the gags together and some of the sequences rank as the best from Hollywood's early years. In particular, a sequence with a blind man and his cane causing havoc in Fields's store is a masterpiece of editing, blocking and performance.
Silent film comedy was always about the lovable, hapless misfit overcoming boorish villains to get the girl but the invention of sound allowed for the genre to create new types of comedic personas. Fields may have been cast as one of those boorish villains in the pre-sound days, but his emergence as a leading comedic voice was refreshing for both his age and appearance and his films remain unique when re-watched today.
Those are my picks and if you haven't seen either, treat yourself to some laughs this week.