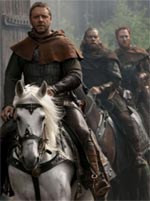 More of a handy PR opportunity than an actual festival honor, Ridley Scott's "Robin Hood" has secured the opening night slot at the 2010 Cannes Film Festival on May 12, two days ahead of its US and UK release date.
Like last year's Cannes opener, "Up," the film will premiere out of competition, affording it the lustre, but not the critical pressure, of a festival berth. That said, the slot is no guarantee of prestige — in 2006, Cannes programmers were taken to task when Ron Howard's widely derided "The Da Vinci Code" was selected to open the fest. Here's hoping Scott fares a little better.
"Up," of course, broke something of a curse attached to Cannes's opening night, which in recent years has showcased disappointments more often than not — in the years when festival directors haven't courted blockbusters, the slot has housed in-competition flops like "Blindness" and "My Blueberry Nights."
I can't see "Robin Hood" lending the fest the same hip cache that last year's Pixar pic did, making it something of a conservative choice. But who cares — let's get to the competition titles already.