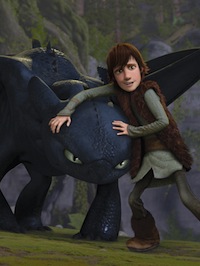 *All historical figures cited are adjusted to today's dollars.
Years of frustration over how to precisely train my dragon will be resolved today as Paramount has released the informative documentary, "How to Train Your Dragon." There's one of these bawdy animated titles every March and they usually do pretty damn well. "Monsters vs. Aliens" debuted with $60.5 million last year and "Horton Hears a Who!" snagged $47.7 million the year before.
I think "Dragon" will fall closer to the latter than the former since it has no famous source material and failed to put the one word in its title that would have excited young boys:  Vikings! Hello? Who makes an animated movie about Vikings and doesn't put that in the title? It's like naming "Toy Story" "Escape From the Room."
Now, the movie is in 3D and on over 4,000 screens so it's almost impossible for it not to be huge. I'm just thinking somewhere around $45 million for this one.
The only other movie opening wide is "Hot Tub Time Machine" from MGM. The studio hasn't released a movie since "Fame" and is more or less dead and bankrupt. They'd like you to think that this is the new "The Hangover," but the concept is way more wacky and esoteric.
Everyone can relate to a bachelor party getting out of control. Nobody can relate to traveling back in time through a hot tub. Now that's not to say that the movie won't be funny and popular with those who see it, but it does mean that it's much more likely to be a "Half Baked"–"Harold and Kumar" type cult hit on DVD and not in theatres. That's why I'm saying $12 million.
Sony Classics gets aggressive with "Chloe," releasing the film on 306 screens straight out of the gate. That's the widest opening they've ever had, beating the 284 screen launch of "Mute Witness" in 1995. Since then, the widest they ever attempted was the 70 screen debut of "Rudo y Cursi." Needless to say, this is uncharted territory for the studio and could mean they're really high on Atom Egoyan's erotic thriller or really low on it. With a couple of legit movie stars, it should be able to be the company's first $1.0 million+ opener in history.
So, what are you guys seeing this weekend?