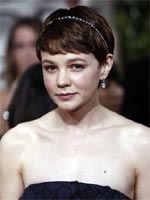 Between Carey Mulligan and Mia Wasikowska, it seems the industry has no need for other 20-something actresses — they'll divvy up all the plum parts between them.
Days after Mulligan's name was connected to the English-language remake of "The Girl With the Dragon Tattoo" comes the news that she's to play Eliza Doolittle in the long-mooted remake of "My Fair Lady."
Almost two years ago, it was announced that a new version of the 1964 Best Picture winner was in the works, with Keira Knightley and director Joe Wright in the frame. Some games of musical chairs have apparently been played since then — John Madden ("Shakespeare in Love") in now in the director's chair, while Emma Thompson is on script duty.
At last night's premiere for the "Nanny McPhee" sequel, Thompson confirmed that Mulligan — with whom she co-starred, of course, in "An Education" — is on board, adding that she "would love" Hugh Grant to fill Rex Harrison's Oscar-winning shoes as Professor Henry Higgins.
I remain about as enthusiastic about this particular do-over as I was two years ago, and Madden's post-1998 résumé doesn't aid my anticipation. But Mulligan makes as much sense as anyone for the project, though it's not as excitingly counterintuitive a possibility for the actress as the role of Lisbeth Salander.
Her rise continues apace — and with this development, don't expect those rote Audrey Hepburn comparisons to stop anytime soon.