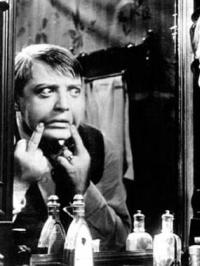 Catch up with the idea behind this series here.
1931 was the first time the Academy Awards were broadcast on the radio. Can you imagine having to tune in to Sirius channel 2174 to hear Conrad Nagel announce who won everything? I don't even know who Conrad Nagel is. 1932 gives us my favorite Oscar story of all time. Apparently, Will Rogers was presenting the Best Director award and after opening the envelope he said, "Come up and get it, Frank!" Frank Capra jumped up and waited for the spotlight to find him before it rested on the actual winner, Frank Lloyd. Someone behind him then yelled, "Down in front!" When Capra did win Best Director the next year, the announcement was also jokingly made by saying, "Come up and get it, Frank!" But enough about what the Oscars did, let's see what they didn't do.
1931 – "M" (Fritz Lang)
It was a down to the wire call between Lang's haunting film and Charlie Chaplin's career peak, "City Lights," as both were shamefully overlooked masterpieces. In Chaplin's case, the sound explosion produced a bit of bias against silent films (none were nominated this year), but there's no such obvious excuse to pass over "M." Particularly since René Clair's "À Nous la Liberté" became the first foreign film to garner any nomination in this year (Best Art Direction). Perhaps it was due to the subject matter, a child murderer as protagonist, that caused Hollywood to balk. Whatever the case, history has proven that Fritz Lang's first sound film is a treasure worth preserving and watching again and again.
That is was his first sound film is mind-boggling when you note what he achieved with that particular tool. Introducing his character off-screen through whistling and then coming back again and again to one particular tune as his calling card are both standard practice today, but revolutionary at the time. The visuals aren't too shabby either, still riffing on the expressionism movement but moving the chiaroscuro to a more realistic context.
All of Lang's technical prowess would mean nothing without the lead performance of Peter Lorre, who turned into one of Hollywood's most reliable supporting players. With that odd face and even odder voice, he was easily associated with gangsters, outcasts and misfits, but his ability to make even the lowest of low-lifes human and complex is what made him a legend. This isn't exactly a buried treasure, but if you haven't seen it, do yourself the favor quickly.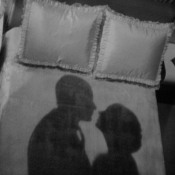 1932 – "Trouble in Paradise" (Ernst Lubitsch)
What can I say, German filmmakers had it going on during this period. Of course, Lubitsch had already transplanted to Hollywood and here produced one of the most sparkling of early romantic comedies. The dialogue is almost impossibly witty and sophisticated, as a bourgeois thief falls in love with a young pickpocket and the two join forces to dispossess a perfume heiress of her diamonds and wealth. The locations, sets and characters are excessively luxurious, a risky proposition for a film released at the height of the Great Depression, but it's hard to get anything but pure enjoyment from watching and listening to their exploits.
Lubitsch was a master of innuendo, and as you can see from that still, he was not afraid of pushing the boundaries of pre-code sexuality. The opening title famously comes on screen with just "Trouble in" and a graphic of a double bed before the word "Paradise" finally fades up a second or two later. The art of dialogue as foreplay is all but lost in modern cinema so it's refreshing to bask in the writing of Grover Jones and Samson Raphaelson. But it's not all sexuality and flirtation as zippy one-liners like this one from a radio announcer attest; "From Geneva comes the news that the famous international crook, Gaston Monescu, robbed the peace conference yesterday. He took practically everything except the peace."
The key cast is made up of Kay Francis, Miriam Hopkins and Herbert Marshall, all successful actors in their day who fail to receive much attention or recognition nowadays. History only seems to have room for the Cary Grants, Greta Garbos and Jimmy Stewarts of the early days but the performances in this film surely set the bar for charm and sophistication in all screwball comedies that followed. It is what came to be known as "The Lubistch Touch".
Those are my picks, with honorable mention going to "City Lights." What say you?