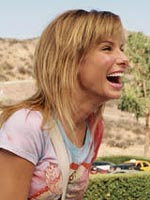 It's not like one needed a further reason to hop on the "We Love Sandra Bullock" train in this of all weeks, but the actress obligingly provides one anyway in this highly enjoyable Guardian interview with John Patterson. Speaking of the genre that has become her bread and butter over the years, she offers these rather forthright words:
Usually comedy is only available to us ladies in the romantic comedy. That's why I hate romantic comedies. I want to make comedic-comedies – let's get back to being funny!
There are so many things to like about this statement, only one of them being that it's absolutely true. She may have predictably made her Oscar breakthrough by crossing over to "respectable" middlebrow drama, but Bullock is one of our most gifted screen comediennes, possessed of wit, timing and physical performance ability surplus to the requirements of the lame comedic vehicles she is usully given.
In another Hollywood era, it's possible Bullock could have been a Carole Lombard-type riot — but as it stands, her material is rarely as funny as she is. For some reason, despite the continued success of fratboy comedies and the male stars they spawn, studios seem to shy away from producing similarly broad comic fare for female leads.
True comic actresses, then, are largely resigned to TV (Tina Fey, pending a certifiable big-screen breakthrough) or supporting "character" parts (think Joan Cusack or Catherine O'Hara). Bullock's beauty and charisma made her a bankable leading lady, but it arguably limited her comic options. As it is, she's one of the few female stars who can headline goofy non-romantic comedies like the "Miss Congeniality" films, but they aren't exactly Ernst Lubitsch, are they?
In the absence of sharp comic writing for women, then, it's inevitable that Bullock — together with similarly talented comic actresses like Amy Adams and Jennifer Aniston — must fall back on cookie-cutter romantic comedy fare more often than not. The problem is that in recent years, that genre has been largely populated with female protagonists that aren't genuinely funny so much as lightly neurotic, making these stars interchangeable with the less comically gifted likes of Katherine Heigl and Jennifer Lopez.
Whatever you make of Bullock's much-maligned slapstick vehicle "All About Steve," it is at least an attempt — a weirdly unhinged attempt, but an attempt nonetheless — to accommodate the outsize comic personality of its star within a romcom format. As such, it's of more interest (if perhaps less aesthetic value) than last year's blander but more digestible "The Proposal." As the actress heads out of the industry's preferred age bracket for romantic comedy heroines, it'll be interesting to see if she continues to seek out comic material that fits her — Meryl Streep, after all, has proved that it can be a viable career route in middle age.
Some might see Bullock's statement as an instance of biting the hand that feeds her. But I like the fact that she's so comfortable and pragmatic about addressing the limitations of her career options. We're all guilty on occasion of blaming stars for making unchallenging but profitable films, as if they specifically sought that material above everything else. It's important to be reminded that even Oscar-winning actresses get what they need more often than what they want.