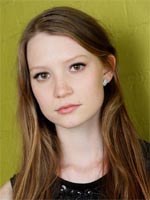 When I heard today that Mia Wasikowska had landed the lead in Cary Fukunaga's upcoming adaptation of "Jane Eyre" for Focus Features, my first thought was, "Well, who else?"
Not that there aren't other suitable young actresses who could ace the part. But 20 year-old Australian Wasikowska seems to have hit a sweet spot in the Hollywood casting game. A year ago, few who didn't watch HBO's "In Treatment" had heard of her; today, she seems to be nabbing every plum role going in her age bracket.
Two years ago, Ellen Page's name was linked to this latest dusting-off of the Charlotte Brontë chestnut; the eventual casting of Wasikowska suggests that even young Hollywood has its minute generational shifts.
Not that I'm complaining about Wasikowska's sudden rise. I was as impressed as everyone else by her tangy work as a suicidal teen in "In Treatment," and was pleased to see that promise completely followed through with a precise, perceptive turn as the daughter of Annette Bening and Julianne Moore in Lisa Cholodenko's deserved festival hit "The Kids Are All Right."
I have yet to see her Spirit-nominated performance in the tiny indie "That Evening Sun," but on the opposite end of the studio scale, I must give her respect for holding her own in Tim Burton's lumbering "Alice in Wonderland," even as the film falls apart around her. If that film's commercial success sends her career skyward, it's at least rewarding the right person. Meanwhile, she also has Gus Van Sant's "Restless" on her docket.
As for "Jane Eyre," I can't say Wasikowska's fair, willowy features are the closest match in my mind for Brontë's heroine, previously incarnated on screen by the likes of Joan Fontaine and Charlotte Gainsbourg. (I admit I was excited by the earlier choice of Page.) But I'm interested to see what she does for the role — and it for her.
Wasikowska rounds out a well-nigh unimpeachable cast for the film, which begins shooting next week. As we mentioned in our interview with the actor in January, Michael Fassbender takes on the role of Mr. Rochester, while Sally Hawkins, Judi Dench and Jamie Bell are all also on board. If Fukunaga can bring some of the jagged, contemporary spirit of his debut "Sin Nombre" to the table, this should be one to watch.