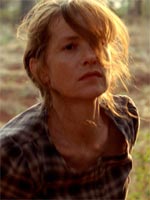 Do you live in New York? Lucky you. I say that for many reasons, but chief among them right now is that you can attend this weekend's Focus on IFC Films mini-festival, in which the dedicated indie distributor previews a selection of their upcoming theatrical and VOD titles at Brooklyn's BAMcinématek.
I mention this principally as another excuse to plug my favorite film 0f 2009, Claire Denis's "White Material." IFC acquired U.S. rights to this staggering Isabelle Huppert-led study of post-colonial Africa last month, and will introduce it under their banner on Friday night.
Other films in the lineup include Ken Loach's "Looking for Eric," which I reviewed upon its UK release last June, Ji-woon Kim's batty Korean spaghetti western "The Good, The Bad, The Weird," which I thoroughly enjoyed at the London fest in 2008, and Elia Suleiman's "The Time That Remains," which I briefly reviewed in October.
I never found time to review Bruno Dumont's "Hadewijch" and the Romanian portmanteau piece "Tales from the Golden Age" at LFF last year, but they're in the mix too, and I recommend them.
I may have said this before, but thank God for IFC. More details here.