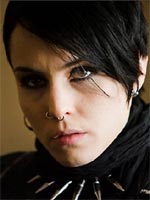 As hard as it is to imagine the button-cute Carey Mulligan festooned with body art and facial piercings, kicking all kinds of corporate ass, it's an intriguing possibility we must now consider.
Over the past few days, the newly-minted Oscar nominee's name, along with that of director David Fincher, has been connected with the much-fancied Hollywood remake of "The Girl With the Dragon Tattoo." Nothing has been confirmed, but Fincher and Mulligan would be a suitably A-list fit for a project that already boasts Scott Rudin as producer, with a script by Steven Zaillian.
The original Swedish thriller, based (in case you've been living under a rock these past few years) on the first part of Stieg Larsson's bestselling "Millennium" trilogy, just opened in the UK to sturdy business for a foreign-language title, and lands Stateside on Friday.
Unlike some highly impressed critics, I think the film offers some room for improvement — Larsson's dense mystery isn't an easy adaptation prospect, but at nearly 160 minutes, the well-crafted, well-acted film feels overstuffed and televisual. I rather hope Zaillian has filleted the novel more judiciously.
Noomi Rapace, a previously unheralded Swedish actress who received a European Film Award nomination for her performance last year, is a smart physical and vocal match for the novel's heroine, Lisbeth Salander, though perhaps even glassier than the role demands. I'd be interested to see what difference the less imposing screen presence of Mulligan might make — at any rate, the role would be a neat typecasting-deterrent for the young Brit.
As for Fincher, the material would appear to play to his strengths — should this turn out to be his next move after his upcoming Facebook drama "The Social Network," it'd be tempting to imagine he's seeking out the most contemporary projects possible after his dodgy (albeit Oscar-nominated) foray into period romance.