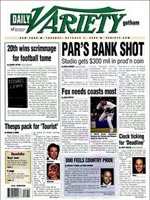 UPDATE: It gets worse: Joshua Newton quotes Variety president Neil Stiles as saying "No one takes these reviews seriously," and that the paper plans to cease reviewing altogether this year.
EARLIER: After firing most of their chief critical staff, just one week after it came to light that they'd suppressed a negative review in order to appease a film's well-moneyed producers, Variety hasn't been much of a friend to the struggling art of film criticism lately.
Amazingly, however, in this NYT take on the situation, the powers that be at the venerable trade paper find ways to make themselves look even worse. I refer to this stunning foot-in-mouth statement from editor Tim Gray, as he attempts to smooth over the Robert Koehler-"Iron Cross" fiasco:
Of the "Iron Cross" go-round, Mr. Gray said he removed the [Robert Koehler's] review from the Web after a lawyer for the director and producer, Joshua Newton, objected, but reposted it after viewing the film and deciding to "stand by the review as it was written."

The line between church and state, wrote Mr. Gray, remains as firm as in Sime Silverman's day. "There is no advertising influence or pressure on the editorial independence of our reporting."
So there's "no advertising pressure," but a call from the director's lawyer can do the trick? Glad that's been cleared up. And is Koehler supposed to be grateful that once Gray had seen the film and sanctioned his opinion, the review was deemed fit for publication again? If that's how little faith Variety has in its own contributors, perhaps Todd McCarthy et al are better off out of it.