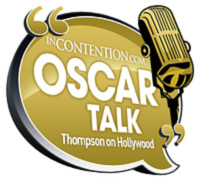 Welcome to Oscar Talk, a weekly kudocast between yours truly and Anne Thompson of Thompson on Hollywood.
This is the final installment of the 2009-2010 Oscar season, with nothing left to discuss but Hollywood's biggest night. On the docket today:
• Anne was on the red carpet and in the press area at the show last night, so she offers some first hand perspective on the festivities.
• We dig into the actual telecast, which Anne caught in fits and starts, but I was camped out on a couch watching intently the whole time and had, well…issues.
• Anne turned up a tally of 16 correct guesses. I nailed down 19. We commiserate on our bad calls and discuss the various winners, some of which were quite surprising.
• Finally, we remember our personal high points from the season and let you know when we'll be back (after a short hiatus).
Have a listen to this week's podcast below, with a history-making moment leading the way.  Oh, and by the way, for our committed listeners, I thought I'd offer up this soundbite from one of our broadcasts of Anne wrestling with her microphone. It cracks me up every…single…time.
As always, you can subscribe to Oscar Talk via iTunes here.  We'll see you back here in roughly two months.
[display_podcast]