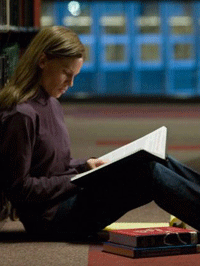 Uncle.
I told myself I wasn't going to write this column this year, let alone make predictions, but some of you were just too cute in your emails and Twitter DMs asking for something akin to my annual year-in-advance take on the race, so I struck a balance: a column and contenders list, but no charts and no predictions.  Fair enough?
The 2010 Oscar season looks, from afar, to be a muted affair.  Most of the films that look like competitors on paper have a distinctly "small" vibe.  Of course, no one knows when a film like "The Blind Side" will decide to come along and sweep the heartland and the Academy at large off its feet.  Maybe Tony Goldwyn's "Betty Anne Waters" will play that role this year.  Maybe not.
There are a considerable amount of actors and actresses with multiple performances on the way, more than usual, I'd say.  And most encouraging, the original screenplay field seems to be much more robust than the adaptations.
Last year the big dogs looked to be "Amelia," "Invictus" and "Nine," and we all know how that turned out.  In fact, it happens with some frequency.  So why bother getting too deep into all of this now?  And to say nothing of the fact that, perhaps mercifully, nothing on the horizon appears to have that level of awards-baiting appeal.  No major filmmakers looking to cozy up to Oscar.  No big stars that seem overdue and are going for it with an obvious role.  None of that, really.
Instead, the big contenders look to come from up-and-coming talent, or at least filmmakers that are much less established than most.  Anton Corbijn's "The American," for instance, or Darren Aronofsky's "Black Swan." The established guys are actually stepping out of the awards stuff and into genre, as evident with Clint Eastwood's "Hereafter," Martin Scorsese's "Shutter Island" and Ridley Scott's "Robin Hood." Then again, genre could be the trick (finally) if Christopher Nolan makes good on the monumental promise of "Inception."
David Fincher will be back, but not exactly with standard awards fare.  Ditto Phillip Noyce.  You know, things like that.  Though Peter Weir and "The Way Back" could tap into a traditionalist vibe, while James L. Brooks will give it another shot with "How Do You Know?" (or whatever it'll be called).
Sony Pictures Classics looks to have another healthy stable of contenders, as does Universal.  But things will ebb and flow until they begin to settle into a picture that makes better sense four or five months hence, so I'll just stop there.  You can peruse the Contenders section to get a vibe on what I have in mind.  It's not nearly as thorough as in years past and it's not broken down into tiers, because I refuse.  But for now, that ought to be enough grist for the mill.
I won't offer up predictions of any sort until post-Cannes at the earliest.  Until then, the sidebar will be a reminder of the 2009-2010 season.
So with that, consider these words my send-off to this season's Oscar coverage and the beginning of a bit of a hiatus for me.  I need it, believe me.  Chad will be kicking off the Life Without Oscar feature tomorrow, while the box office columns will continue to run on Fridays and Sundays.  Guy will chime it at his leisure, as will I (eventually), but for now, I'm powering down.  Thanks for making it a lively and spirited season and, as always, for bringing a community component to In Contention that is truly irreplaceable.
Cheers.