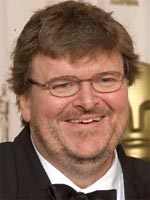 One of the most common lines (usually used in praise) on our newly-crowned Best Picture winner is that it's deliberately apolitical, taking no sides in the Iraq conflict as it aims simply to present the soldier's experience on the ground. Kathryn Bigelow herself dismissed that as something of a misconception in a recent interview with Steve Pond:
I guess my feeling is that graphic portrayals of innocent children killed by bombs, and soldiers incapable of surviving catastrophic explosions … I think that's pretty clear. And then also, to add to that, the movie opens with a quote, "The rush to battle is often a potent and lethal addiction, for war is a drug." So it's definitely taking a very specific position.
Blogging last night on the Oscar race, Michael Moore says much the same thing — less tacitly, of course, than Bigelow:
The truth is "The Hurt Locker" is very political. It says the war is stupid and senseless and insane. It makes us consider why we have an army where people actually volunteer to do this. That's why the right wing has attacked the movie. They're not stupid — they know what Kathryn Bigelow is up to. No one leaves this movie thinking, "Whoopee! Let's keep these wars going another 7 years!"
Moore also comes out in defense of "Avatar," calling James Cameron "a brave and bold filmmmaker," and film "an allegory for America." The piece concludes with the documentarian's own highly idiosyncratic (and indie-skewing) list of 2009's best films, ranging from "Mary and Max" to "Sugar" to "In the Loop." Check out the rest here.