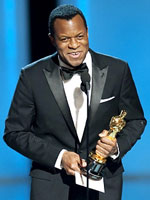 Before we close the book on 2009, here's one last rundown of our interviews with this year's Oscar recipients.  It was lovely to meet with them all as this was truly, for the most part, a season of camaraderie.
"The Cove"
Louie Psihoyos (Best Documentary Feature)
"Crazy Heart"
Jeff Bridges (Best Actor)
Ryan Bingham and T Bone Burnett (Best Original Song)
"The Hurt Locker"
Mark Boal (Best Picture, Best Original Screenplay)
Chris Innis and Bob Murawski (Best Film Editing)
Paul Ottosson (Best Sound Editing, Best Sound Mixing)
"Precious"
Geoffrey Fletcher (Best Adapted Screenplay)
"Star Trek"
Mindy Hall (Best Makeup)

"Up"
Pete Docter (Best Animated Feature Film)
Michael Giacchino (Best Original Score)
Check back later today for Guy's expanded thoughts on the telecast, a new installment of Oscar Talk and, yes, the first Off the Carpet column of the 2010-2011 Oscar season.