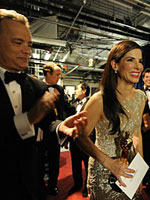 Anthony Breznican (who, by the way, won the Publicist Guild's reporter of the year prize Friday) gave us a wonderful behind-the-scenes take on the Academy's pre-nomination proceedings at USA Today back in early February, and he's back this morning with a first-hand perspective from backstage at the Kodak last night.
Here's a taste:
As [Mo'Nique and Geoffrey Fletcher] walked down the corridor to the elevator that would take them to the pressroom, Robin Williams jumped in front of them to lighten the mood, making "swish, swish, swish" noises as he swept an invisible broom in front of her slow walk.

"It's curling, curling!" Williams said, finally getting Mo'Nique to laugh out loud.
Check out the rest at USA Today.