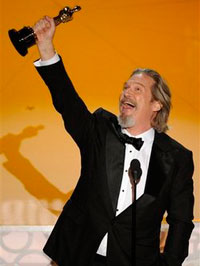 Oh, let's start with the positive.  The irony of the lowest-grossing Best Picture winner of all time coming in a year when the Academy did everything it could (right down to a hopelessly baiting horror film montage) to shove the Oscar telecast toward populist appeal couldn't be more delicious.  Much of the season was deceptively tame, but a final week push from all sides (including within) to unseat the perceived frontrunner either came too late or simply didn't work.
"The Hurt Locker" claimed six trophies, including Best Picture, Best Director and best Original Screenplay.  The latter became perhaps the tightest race of them all as The Weinstein Company worked aggressively to secure a prize for Quentin Tarantino, but again, it either came too late or didn't work.
Kathryn Bigelow's war saga wasn't even daunted by its perceived competition as "Avatar" managed only three wins, for Best Visual Effects, Best Art Direction and Best Cinematography.  Only one of those races included competition from "The Hurt Locker."
The biggest surprise of the night, no doubt, was Geoffrey Fletcher's Best Adapted Screenplay win for "Precious," an award that seemed to be pre-ordained for "Up in the Air" scribes Jason Reitman and Sheldon Turner.  How often we forget the Academy can be as unpredictable as not.  And Fletcher, by the way, is the first African American winner of a screenplay Oscar.  "Precious," meanwhile, was one of three films (along with "Crazy Heart" and "Up") to win two Oscars, and it seemed to receive a lot of respect and admiration in the room.
The acting categories also went as planned, with Sandra Bullock overcoming doubts in the end and proving the writing really was on the wall.  But we'll never know how truly close it was.  I should also note that, whatever your feelings of her performance and win, whether they be sincere or from some hyperbolic pit of vitriol, hers was one of the finest Oscar acceptances speeches ever delivered.  Perfection.
As for the telecast itself, and utter disaster in so many ways.  The opening song and dance number bombed.  It felt frivolous and even arbitrary.  I don't know how I feel about that American Idol line-up to kick of the show, either, by the way.
The orchestra was so trigger happy as to be embarrassing, the truly infuriating moment coming when Louie Psihoyos wasn't able to deliver what would have been a profound and important address on a show that is the most watched program on Japanese television.  I imagine Ric O'Barry's sign got them nervous, but be educated about the damn season — it was calling for a simple text that has been a part of the film's marketing.  Jesus.  They even started to play Jeff Bridges off the stage.
And can we all take a moment and consider that?  Jeff Bridges is finally an Oscar winner.  What a story.  And I'm happy to say I called that as far back as November 4.  But then again, who wouldn't?
The interpretive dance numbers were asinine, and I hope a fine replacement for the opportunity to showcase fine young talent like Ryan Bingham, novelty like Anika Noni Rose and Dr. John lightening up the festivities, etc.
Then there was the moment the show hit a screeching halt: the lead acting categories.  If you didn't already notice the lifting of last year's title designs, the show ran out of steam and just lifted this aspect of last year's show, too.  Only it was more drawn out, feeling entirely inorganic.  Lazy.
The hosts, Steve Martin and Alec Baldwin?  Inconsequential.  Things started out okay, some of the jokes worked.  But ultimately the style overstayed its welcome.  The best bits in the show were probably the animated feature sequence and Ben Stiller's Sacha Baron Coen-less Na'vi sketch.  And those were still a bit lukewarm.
As for predictions, it looks like, after a quick glance, Steve Pond and our own Guy Lodge leading the field guessing 20 of 24 categories correct.  I nailed down 19 (22 with alternates) and there seem to be a few 18s out there, too.  The shorts tripped me up severely.  I missed all three, and I'm truly flummoxed at how they turned out.  I also missed Best Adapted Screenplay (Who didn't?) and Best Sound Editing, which surprisingly went to "The Hurt Locker" in a sweep of the sound categories.
(Oddly enough, the day of the nominations, I correctly foresaw 20 of the 24 categories.  Maybe that's indicative of how predictable the race because in phase two.)
Check out the full list of winners at The Circuit, and back tomorrow for a special season wrap-up edition of Oscar Talk.