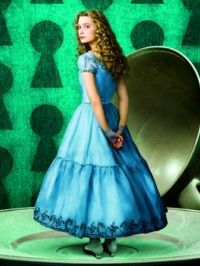 *All historical figures cited are adjusted to today's dollars.
May I introduce the film with the 14th biggest debut of all time, "Alice in Wonderland." It's also the biggest March debut, biggest 3D debut and third biggest non-sequel debut of all time. If your goal was to ensure that Tim Burton continues to lazily adapt his gothic style to beloved material over and over again, job well done America.
Let's just take a step back for a second. $116.3 million is the figure we're looking at, which places it right between "X-Men: The Last Stand" and "The Matrix Reloaded." Those are both huge sequels, released around Memorial Day and are expected to be in this kind of vicinity. No film has ever opened with $100 million outside of May, June, July or November before today but the combination of Burton, Johnny Depp and a bunch of characters made out of McDonalds happy meal toys proved too irresistible to ignore.
Somehow Burton has built an entire career out of franchises, remakes and studio product aimed at merchandise as much as artistry, yet still maintained auteur credibility and worldwide acclaim. Congratulations to him for that, but a little more "Edward Scissorhands" and a little less "Alice in Wonderland" would be nice.
"Brooklyn's Finest" came in at number two with $13.5 mil, which is a lot more than I thought it was going to land. But then again, based on the title I thought it was a movie about the hot dog cart on Lorimer Street. I suppose if watching Johnny Depp prance around in tights isn't your bag, then Wesley Snipes pumping a double barrel shotgun is the complete opposite end of the spectrum. This is two solid debuts in a row for Overture Films, who still have a ways to go before living down beginning their career with "Mad Money."
It only took twelve weeks, but the stuffing was finally knocked out of "Avatar" and James Cameron's sci-fi epic fell 44% to $7.7 million. That was still enough for another weekend in the top five and it's now the first film to spend that many consecutive weeks in the top half of the chart since "Titanic."
Good news for Oscar buffs. "Crazy Heart," "The Blind Side," "A Single Man" and "An Education" all improved their takes from last week, meaning that the nominations still count for something at the box office. Furthermore, "The Secret of Kells" had a sensational debut on one screen in New York, earning $40,175.
Also in limited release, "A Prophet" and "The Ghost Writer" earned phenomenal per screen averages as they slowly expand and depress the hell out of larger audiences. Not a moment too soon for the art houses, who sorely needed some good news.
I didn't see anything this week, even as the list of titles I want to check out slowly piles up. Probably won't get out today either since there's a little program on television I think we're all supposed to watch.
Here are the weekend's top domestic grossers, courtesy of Exhibitor Relations: