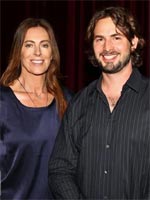 Plenty of interesting Oscar-related floating around the web on the last day for any such discussion, but two pieces related to tonight's principal "Hurt Locker" hopefuls stand out.
Kathryn Bigelow's likely win tonight will probably prompt some over-optimistic speculation in some quarters about the future of female directors in Hollywood. With that in mind, the L.A. Times's Rachel Abramowitz seeks to keep those hopes in check with some sobering stats of present-day industry inequality that one Oscar can't fix on its own:
Although successful female directors appear to have gained higher profiles of late, the actual percentage of top films directed by women has remained static for 25 years at 7% to 9%, according to an annual study of women writers, directors, and producers of the 250 top-grossing films of the year by the Center for the Study of Women in Film and Television at San Diego State University.

For instance, neither Warner Bros., the world's largest studio, nor Paramount Pictures hired a single female director last year, while Walt Disney Studios and Universal Studios hired just one apiece. No woman has ever been hired to direct an event picture with a budget of more than $100 million, the kind of film most valued by the Hollywood machine.
Bigelow, of course, would be the last person to label herself any kind of pioneer in this field; throughout the season, she has strenuously avoided the topic of gender in interviews. (She declined to speak to Abramowitz for this very piece.) I admire the fact that she doesn't use the issue as any kind of crutch, declaring herself a filmmaker first and foremost, though it'll be interesting to see if it comes up tonight, and if so, how she handles it.
Meanwhile, the New York Times has a nice piece on screenwriter Mark Boal, playing up his genial, regular-guy candor against the mad flurry of campaign season. Boal's a hard guy not to root for once you've met him, and he comes across well here, with this being one of my favorite quotes of the season:
On one hand, it's like, 'Boo-hoo, your film is being honored by highly discerning professionals and you get to mingle with celebrities and you have miniature pot-bellied pigs at your beck and call … I fully understand how lucky I am. On the other hand, it's astonishing how grueling the process can become. I think there were 10 black-tie events in January alone.
He's not joking about the pot-bellied pigs, either. Read the rest here.