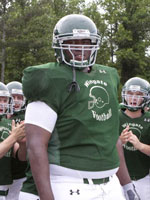 And here we are. With one day until the Oscar ceremony, we wrap up our Oscar Guide series with a look at the 10 nominations for Best Picture. Yes, 10. The Academy decided to pump up the intrigue by expanding its Best Picture field this year in an attempt at securing some love for more populist films with a wider audience, and it seems to have worked.
But let's face it. The most brilliant irony of the season would be, if after all of its attempts, the field expansion, spiffying up the telecast, etc., the Academy is one-upped by a film that virtually no one saw winning Best Picture. It could happen, but the highest grossing film of all time could also win. No shortage of drama here.
The nominees are:
"Avatar" (James Cameron and Jon Landau)
"The Blind Side" (Gil Netter, Andrew A. Kosove and Broderick Johnson)
"District 9" (Peter Jackson and Carolynne Cunningham)
"An Education" (Finola Dwyer and Amanda Posey)
"The Hurt Locker" (Kathryn Bigelow, Mark Boal, Nicolas Chartier and Greg Shapiro)
"Inglourious Basterds" (Lawrence Bender)
"Precious: Based on the Novel 'Push' by Sapphire" (Lee Daniels, Sarah Sidel-Magness and Gary Magness)
"A Serious Man" (Joel Coen and Ethan Coen)
"Up" (Jonas Rivera)
"Up in the Air" (Daniel Dubiecki, Ivan Reitman and Jason Reitman)
As I've mentioned numerous times, the 10 is clearly a success. It represents a vibrant cross-section of what the cinema has to offer, from independent virtues to blockbuster over-spending, genre products to drama and comedy, and even animation. The only thing we're missing is documentaries and foreign language films.
There isn't much else to say, but "Avatar" is the most financially successful film domestically and internationally — ever. It captured the imagination of the public, critics and the Academy at large. But while it represents the beginnings of a future for the medium that is exciting, it also represents a future many perceive as threatening. Much as been made of the film's lack of acting nominations, as the actors command a significant branch of support in the Academy. Morgan Freeman is on the record dismissing it as "basically cartoons," so one can't help but wonder if there are similar sentiments. And the preferential ballot could be a real sticking point. While the film will have a fair amount of number one votes, it will also have more than its share of lower-tier votes. Maybe it really is the "David" of this race.
The biggest shock for most on nomination morning was "The Blind Side" landing a bid for Best Picture. Chalk it up as a success for the telecast, as it's sure to help with the red state viewership, but beyond a second nomination for Best Actress, the film didn't receive support elsewhere. The preferential ballot could well help it out (as it certainly played a hand in securing it the nomination), but I think the film, which also raked in over $250 million at the domestic box office, is tapped out on surprises at this point. And the overriding sense of things if you ask around town is that this is the one that doesn't belong. But hey, the point of the 10 is the more the merrier, so hopefully all involved soak it up. The film will likely yield an Oscar for lead actress Sandra Bullock, but we can safely pass over it in this arena.
Science-fiction made a valiant return to the fore this year as efforts like "Avatar," "Moon" and "Star Trek" found a home here and there in the awards season. But Neill Blomkamp's "District 9," a wonderful socio-political commentary in the guise of a high tension alien saga, is perhaps the least Oscar-ish film of the Best Picture slate. Hallelujah to the 10, in this instance. If I'm not mistaken, it's the first best Picture nominee to get its world premiere at Comic-Con of all places, and it secured a nomination for producer Peter Jackson while "The Lovely Bones" fell face first on arrival. The film has an undeniable passion base, one that was indicated early on at an Academy screening that got people wondering. The film also had a lot of BAFTA support. And it represents a totally different breed of sci-fi than James Cameron's opus, so hooray for diversity.
Lone Scherfig's "An Education" is one of those films that could benefit from the preferential ballot as the rounds go by. It's a well-liked film that should have prominently high placement on a number of ballots. But without a substantial first round showing it's not likely to threaten much, though it's still worth pondering. There is plenty of BAFTA support (though it didn't manage to take the Best British Film price across the pond, oddly enough), and that's a significant portion of the Academy. But the ride is likely nearing its end for this Sony Classics drama, and a long ride it's been, stretching way back to Sundance over a year ago. All involved are going places, though, so chalk it up to a hell of a showing. Once again, the 10 came to the rescue of a production that deserved it.
The questions are aplenty. Did EmailGate affect member's votes? Is a film that grossed $13 million at the box office really going to win Best Picture? Is the latter-season drama, including a pending lawsuit, going to be what we remember from a film that had one of the most amazing, seemingly fated rides of any Oscar season ever? Time will tell. For now, "The Hurt Locker" has a pretty comfortable grip on the frontrunner position, having won virtually every major precursor. But things might not be so cut and dry. There are whispers that older voters have shied away and gone with the movie that "can save the industry," or some such hogwash. (Really, how does one let that talking point propagate, as if one film holds the key to the industry's survival?) We'll have to wait and see if the film marches on.
Perhaps the biggest cock-blocker for "The Hurt Locker" this season is Quentin Tarantino's "Inglourious Basterds," which will be siphoning off plenty of votes as the preferential balloting goes round after round. That logic has led many to the conclusion that it is a threat to shock the world in this category, and a precious few to go so far as to predict such a thing will happen. Color me skeptical. While it's, again, undeniable that many people love the film, it's doubtful too many take it all that seriously. Then again, that doesn't matter much when you're talking about a slew of #2 and #3 votes. A last gasp whirlwind of campaigning from Harvey Weinstein rubbed some wrong, but may have been just the thing to drive the point home for others. One thing is for sure: the internet has its horse.
Another film that has endured the long ride from Sundance is "Precious," which has enjoyed one of the more storybook seasons of recent memory. The film peaked early on, and was considered at the time to be a real threat here. But as the months went by, it faded somewhat, but never so much as to fall from the highest ranks of this year's field. It is worth noting that the film is one of five in this category that also received a Best Film Editing nomination, which indicates a level of support beyond what one might have expected. But the likelihood is that it will fall in the Indie Spirit tradition of "win on Saturday (now Friday), lose on Sunday." All involved couldn't be more happy to be here, and the film is one of the many this year that represents a full house of breakout talent that is going to go far.
Praise Hashem, "A Serious Man" was nominated for Best Picture. Focus Features seemed to pull back a bit on advertising, maybe because it was understood this esoteric film from the Coen brothers was facing a fierce uphill battle. But the campaign it did take out was one of the classier ones of the season, consistently but gently reminding voters what a masterwork it truly is. It's nomination was never assured, but it always felt like it would have enough gas in the tank. But the needle is on "E" now. The film is the third Coen feature to be nominated for Best Picture and it fits perfectly in that tradition, one of the duo's finest outings to date. Like "The Blind Side," the film only has two nominations, so we should all be asking ourselves what's at #2 on those films' #1 ballots.
It took an expanded field to realize the milestone, but finally, another animated film has been rewarded a nomination for Best Picture. Pixar's "Up" joins "Beauty and the Beast" as the only two toons to make it to Oscar's big dance, and while there may be a permanent asterisk in the record books, the Pixar message is still loud and clear: "We don't make animated films, we make films." And here's the kicker: this could be a real dark horse threat. The film is racking up numerous #2 votes by a great many who love the film but don't feel comfortable voting for an animated film at the very top of their ballot. And ultimately, few would argue with a victory here. Preferential balloting is all about consensus, the generally agreeable winner. So, all I'm saying is, watch out.
Finally, Jason Reitman continues his successful early career with "Up in the Air," a film about the times, a film concerned with the country and the state it finds itself in. As Paramount kept reminding voters, it is "the film of the moment," and like "Up," it will have a considerable presence at the top of a great many ballots. It's also worth noting that no other film has three actor nominations, and with the acting branch being the Academy's largest (at over 1,000 members), that could help things considerably. On the other hand, voters may be fully comfortable with a mere "consolation" prize for Reitman and co-writer Sheldon Turner, even if "consolation" is a bit of an insult and they fully deserve that honor. Whatever happens, Paramount has run exactly the campaign they should have.
Will win: "The Hurt Locker"
Could win: "Avatar"
Should win: "A Serious Man"
Should have been here: "Antichrist"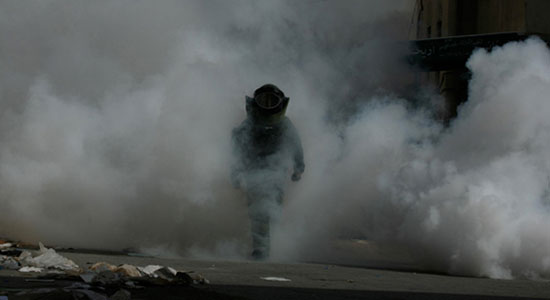 What do you think deserves to win this year's Oscar for Best Picture? Have your say in the sidebar poll!