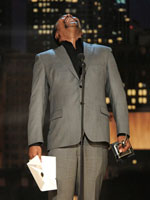 Last night's Independent Spirit Awards ceremony was quite the touching affair, I have to say.  Early in the evening, tears were shed by Scott Cooper and Geoffrey Fletcher on stage as they accepted awards for Best First Feature and Best First Screenplay respectively.  As Cooper and Fletcher are two of the gentlemen I've gotten to know more than most this season, I'd be lying if I didn't say I didn't get a bit choked up as well.
Cooper was convinced before the show that Tom Ford was going to take home the prize.  He's also lining up some interesting assignments (as one would expect).  His "Crazy Heart" train came to an end last night, but the show goes on Sunday as Jeff Bridges, Maggie Gyllenhaal, T Bone Burnett and Ryan Bingham go on to represent the film at the Oscars.
I chatted with Bingham for a bit as well, conveying my sentiments regarding the original song contenders getting the axe by Oscarcast producers Bill Mechanic and Adam Shankman.  But I was frankly more livid at Bingham not getting his global audience moment than he was.  The guy couldn't possibly take everything more in stride.
I also got a few moments with "The Last Station" director Michael Hoffman, who is genuinely impressed by the idea of Oscar prognostication.  "I don't know how you guys do it," he said.  Talk about a refreshingly outside perspective — if Hoffman spent a few months in these inevitably predictable trenches, it might make more sense to him.  "It's pathetic, I know," I told him, but the compliments were appreciated, to say the least.
Later on in the show, director Lee Daniels was a bit overwhelmed by emotion as well, and how could he not be?  His film, "Precious," swept the slate, taking home no less than five awards, including Best Feature.  And the room really seemed to love the cast and crew, Gabourey Sidibe getting a particularly huge pop when she won for Best Actress.  Conversely, and strangely, the room didn't seem to be as at ease with Jeff Bridges winning the honor for Best Actor, Colin Firth and Joseph Gordon-Levitt appearing to be the indie faves, judging from the overall atmosphere.
I'm just happy Souleymane Sy Savane was even in the mix (he would have been my personal choice, actually).
I think the overall perception is that Eddie Izzard bombed, being even a bit irresponsible in lazily working his way through emcee duties.  But the new downtown venue seemed to work out.  They might try to put a focus on the intimacy of the gathering again next year, though.  The Spirits may be growing but for some it might have felt like being in Hall H at Comic-Con.
Personal highlight: I finally got to see Anvil perform live.  Awesome.