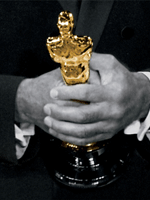 If you haven't already done so, be sure to join us over at Awards Picks and enter in our 2010 Oscar pool.  Picks are locked in at 7:59pm EST Sunday, March 7 by the system.  (How's that for last minute?)
I'm still open to suggestions if you guys have issues with the way the ballot is currently weighted.  We don't have to weight it if you don't want.  Everything can be equal and we'll just use the tie-breaker where necessary, but I'll leave it to you to decide.
This year's winner gets a grab back of studio swag, including the screenplays for "Julie & Julia," "The Hurt Locker" and "Up," as well as a screenplay/photo coffee table book for "The Bad Lieutenant: Port of Call New Orelans." There's also the soundtracks for "Precious" and "Up in the Air," plus a copy of Walter Kirn's book.  Oh, and a nifty Oscar hat.  Maybe more if I uncover more swag in the darkest reaches of my office.