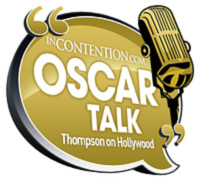 Welcome to Oscar Talk, a weekly kudocast between yours truly and Anne Thompson of Thompson on Hollywood.
This is it. The final installment of Oscar Talk before the 82nd annual Academy Awards go down Sunday evening. Anne and I have our final say this week on the following:
• We dig through the 24 categories one more time offering our perspectives and respective predictions. The toughest calls are in the cinematography, sound and original screenplay fields, though Best Actress, Best Art Direction and Best Film Editing stir some healthy debate.
• With 600 ballots having been turned in Tuesday, one can only wonder about the effect of EmailGate (Anne spoke with Nicolas Chartier earlier in the week) and the pending lawsuit against Mark Boal.
• Speaking of Boal, we debate the idea of whether his script is an adaptation or not, bringing the situation with Jane Campion and "Bright Star" make for comparison.
• And finally, because I can't help myself, I bring it back around to Best Original Screenplay one more time, because it's so damn difficult to decide.
Have a listen to this week's podcast below. And as always, you can subscribe to Oscar Talk via iTunes here.
[display_podcast]