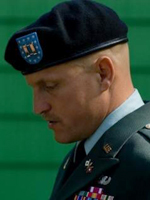 Best Original Screenplay: 2009's most difficult category to predict. Why? Certainly not because of each contender's merits (when does that ever come into play with the Academy). No, this field is a hair-puller because you have a vibrant, likable personality up against the Best Picture frontrunner, always a recipe for a close race (and, sometimes, a recipe for upset).
This year's nominees contain four Best Picture nominees and one surprise (which thankfully ousted the most overrated indie charmer of the year). Atypically, there are as many Best Picture nominees represented here than in the adapted field, which can't be a bad thing.
The nominees are:
"The Hurt Locker" (Mark Boal)
"Inglourious Basterds" (Quentin Tarantino)
"The Messenger" (Alessandro Camon & Oren Moverman)
"A Serious Man" (Joel Coen & Ethan Coen)
"Up" (Screenplay by Bob Peterson, Pete Docter; Story by Pete Docter, Bob Peterson, Tom McCarthy)
Only two of the films nominated feature Oscar-returning screenwriters (each of them with wins under their belts). Three of the films are war studies (two of them sincere). But what will last gasp campaigning mean in the final analysis? (It is entirely possible I could change my final prediction in this category, so check back Saturday for my full list of final predictions.)
Mark Boal is very much in the news lately for the work he put into "The Hurt Locker," which was inspired in large part by the reportage that yielded his 2005 Playboy piece "The Man in the Bomb Suit." But regardless of craven lawsuits, the film has found itself in the frontrunner position for Best Picture, which means Boal's work ought to be taken seriously here. He crafted a non-traditional narrative around an enigmatic lead character, finding authentic dialog rhythms and a structure that nevertheless worked to his and the film's advantage. Levels of poignancy are reached in the third act, especially in the film's final moments, that leave the viewer on a very thoughtful note, which could go a long way toward securing support from members who want to be a bit serious with their vote.
If frivolity is preferred to sincerity, then there is the always charming Quentin Tarantino and his WWII romp "Inglourious Basterds" to consider. The screenplay is, like Boal's, very non-traditional. A typical over-abundance of lofty dialog, which Tarantino calls his "poetry," rubbed a few wrong, but found just as many supporters along the way. The film was a critical hit overall, which yielded eight critics' awards for Best Screenplay throughout the circuit. But industry-wise, the BAFTA and WGA (which is beside the point, since Tarantino is not a signatory) went another way. And even the Harvey-friendly HFPA didn't bite, which raises the question, while it's undeniable the film has a following and many love it, does anyone truly take it seriously? And did that last aggressive push do more harm than good?
The big surprise in the category (and a welcome surprise at that) was Alessandro Camon and Oren Moverman's nomination for "The Messenger." An interesting companion piece to "The Hurt Locker" this year, the screenplay depicts the agony of loss and the psychological torment of the war at home. A number of scenes (perfectly acted by the year's best ensemble) capture the raw emotion of that reality, interspersed with the moving emotional journey of the film's lead. One can only imagine that the film was close to a Best Picture nomination, given a savvy campaign and this unexpected mention, but it's still left to be seen whether enough members have actually seen it. If they did, this could be an interesting spoiler, or at least maybe a beneficiary of a split vote. Then again, probably not.
The Coen brothers, Ethan and Joel, found their way back into Oscar's good graces for the third time this year with the seemingly esoteric, but cunningly universal (and brilliant) "A Serious Man." In a just world, they walk away with the Oscar. But the reality is, even with a Best Picture nomination, chances are slim. With their screenplay (which was written in tandem with "No Country for Old Men" and "Burn After Reading"), the Coens assembled perhaps their most intimate portrait to date, one of notable insight and a thoughtful piece that, quite hysterically, pretends not to be thoughtful at all. And that's the point the Coens make with their film, from an opening quote on black until the narrative's end: accept the mystery. And receive with simplicity everything that happens to you.
To be perfectly honest, if you want to know the true dark horse lurking and waiting to spoil, I'd point you to Pete Docter, Bob Peterson and the animated Best Picture nominee "Up." First, the film is racking up plenty of number two votes in the Best Picture field. It's probably safe to assume Pixar has been close to a screenplay Oscar the last few times out, and this is one of the most powerful, emotional narratives of the year, one that blends sincerity with absurdity and sticks the thematic landing. The only real hurdle is the old standby: animated filmmaking is not taken seriously outside of its ghetto category. But in a tight race, anything can happen. While the two frontrunners are somewhat marred by competitive controversy, Pixar looks like a safe bet and a vote you'd feel good about making.
Will win: "The Hurt Locker"
Could win: "Inglourious Basterds"
Should win: "A Serious Man"
Should have been here: "Mary and Max"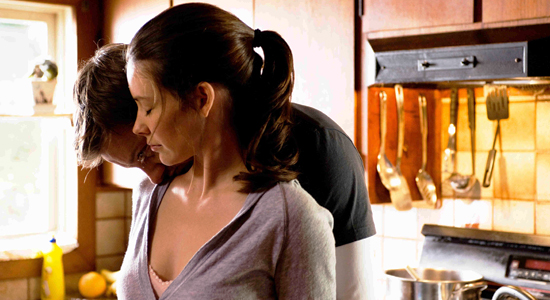 What do you think deserves to win this year's Oscar for Best Original Screenplay? Have your say in the sidebar poll!