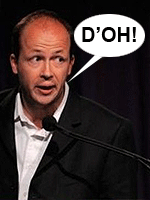 Earlier in the week, Steve Pond published a story at The Odds that was unfortunately misread by a number of outlets, and an inaccurate stat subsequently spread like wildfire (such as in this Hot Blog post from David Poland).
"Years ago, one P.R. firm working Oscar campaigns stationed an observer in that lobby to find out just how many voters cast last-minute ballots," Pond wrote.  "According to what the head of that firm told me, about 500 ballots (almost 10 percent of the vote) were hand-delivered, messengered or FedExed in over the course of the day."
Obviously he was talking about a different season.  But it's all moot, because as it turns out, the tally of this year's final day of balloting might be much, much (MUCH) larger, if Pete Hammond's recent Notes on a Season post is to be believed.
Writes Hammond:
At Tuesday's Envelope Hollywood Museum party celebrating this year's Oscar-nominated costumes, I spoke to an academy member who had just hand-delivered his ballot to PriceWaterhouseCoopers before polls officially closed at 5 p.m. that day. Just like a regular presidential election he showed me the voting sticker he wore as he was escorted into the hallowed halls of the Wizards of Oscar accounting. He said a Price Waterhouse assistant told him this was the biggest final day haul of ballots in their history. I have since checked with one plugged-in source who says the estimate is in the low 600s which, if correct, would be a hugely significant amount of last-minute Oscar voters.
That's…a lot.  That's significant.  That's frankly enough to give me some pause.  You're talking 10% of the overall vote.  And that's assuming all of the roughly 6,000 members of the Academy cast their ballot, which, they don't.
Where I originally felt that EmailGate would have had little impact on the race, I frankly find myself wondering now.  I'm gonna need to chew on this for awhile…