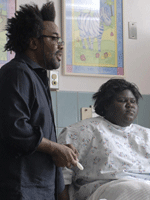 This year's Best Director category has stirred a media frenzy for featuring, along with Best Picture, a face-to-face duel frequently dubbed "the battle of the exes." Unfortunately the desire to tout that headline has clouded the discussion of the films, their merits and the actual accomplishments of those at the helm. But who cares about that stuff?
Seriously, though, this could be a milestone occasion for two of the filmmakers in question, a return to glory for two other former awards season players and is already  the second notch on an exciting young filmmaker's belt as he continues to make his mark on the industry. Not a bad cross-section.
The nominees are:
"Avatar" (James Cameron)
"The Hurt Locker" (Kathryn Bigelow)
"Inglourious Basterds" (Quentin Tarantino)
"Precious" (Lee Daniels)
"Up in the Air" (Jason Reitman)
These are, of course, the five films that coagulated throughout the season as the agreed upon "five," rendering the expanded Best Picture category a bit moot, in some ways.
The only real pretender to the frontrunner's crown is James Cameron, who made a definitive statement with "Avatar." A 12-year hiatus between industry-dominating productions yielded the most popular film of 2009, and one with an impressive critical approval rating as well. It's probably safe to say that if Cameron hadn't been the king of Oscar's world the last at-bat, he'd probably have a better play at this statuette this year. That is, of course, unless the sentiment that paints him as a monster to work with didn't take hold. But Cameron has been everywhere, perhaps even over-exposed a bit. Then again, this film has no real face, no star power to bask in the media spotlight, so Cameron is really his show's star. Can that translate to a vote for Best Director? You can bet he'll get plenty.
The only problem is, this is Kathryn Bigelow's year, it is "her time," to paraphrase Mark Harris's recent thorough examination of the season. Even the competition doesn't want to take that from her, Cameron even going so far as to suggest voters give Bigelow Best Director for "The Hurt Locker" (as if that means they're doing her a favor) and give his film Best Picture. Fellow nominee Jason Reitman, at a recent New Beverly guest-programming stint, said, "Two words: Kathryn Bigelow," when briefly discussing the Oscar race. It's a tangible given that would probably be a bit of a scandal if it went any other way. This begs mentioning that the Academy is notorious for retaliating against strong-arming, but we're also talking about the Best Picture frontrunner. In the final analysis, this really should be your easiest call.
The Weinstein Company sure smelled opportunity during this season's second phase of campaigning. Quentin Tarantino hit the trail with a vengeance, talking to any and everyone with an outlet, while the studio held party after party for his World War II romp "Inglourious Basterds." The director enjoys a streak of popularity that can't be denied, many respecting his passion for the medium and unwillingness to make anything other than the movie he set out to make. That goes a long way when you're talking about the Oscars, the biggest popularity contest in the business. But is it enough to get voters to take the film seriously? And is it enough to give the edge to one of Hollywood's favorite sons in a race that otherwise seems to be a foregone conclusion? Of course not.
While everyone was concerned with Kathryn Bigelow potentially making history as the first woman to win an Oscar, Lee Daniels was making actual history by being the first openly gay African-American director nominated for an Oscar. He was also the first African-American nominated for a DGA award. It's all in keeping with the long, fortuitous journey of "Precious." But while a win isn't likely, it's worth pointing out a few things. Two of Daniels's actors were nominated for Oscars; only one other nominee directed more than one actor to a nomination. He made Gabourey Sidibe a star while drawing quality performances out of comedians (Mo'Nique) and musicians (Mariah Carey, Lenny Kravitz) who had minimal dramatic acting experience. The accomplishment should not be taken lightly.
Jason Reitman saw his second Best Director nomination this year for "Up in the Air," a sure-thing from the film's unveiling (a much different scenario than his surprise bid for "Juno" two years ago). While actor George Clooney was making a sincere effort to avoid hitting the publicity trail for the film, Reitman, much like Cameron, was left to be the face for his film. And, like Cameron, it left him a bit over-exposed at times, but whenever he had a mic in front of him, he seemed to say just the right things, whether it concerned the zeitgeist elements of his film or the fact that he is so appreciative of the trail his father blazed in the industry. In a perfect world, Reitman would win the award, but he is likely to be relegated to a screenplay consolation (which is nevertheless deserved).
Will win: "The Hurt Locker" (Kathryn Bigelow)
Could win: "Avatar" (James Cameron)
Should win: "Up in the Air" (Jason Reitman)
Should have been here: "A Serious Man" (Ethan Coen, Joel Coen)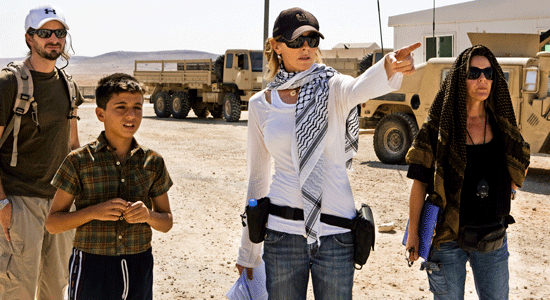 What do you think deserves to win this year's Oscar for Best Director? Have your say in the sidebar poll!