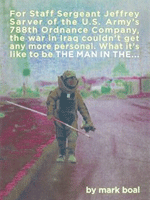 In this morning's round-up we mentioned the forthcoming lawsuit against Mark Boal and "The Hurt Locker" that claims the film's central character, Staff Sergeant William James, is in fact the embodiment of a real soldier named Jeffrey Sarver.  Boal followed Sarver and his team around in the summer of 2004 to observe this new facet of modern warfare, and the result was a Playboy piece titled "The Man in the Bomb Suit," which ran in the September 2005 issue.
The takedown of this film is quite hilarious.  First it's not an accurate depiction of what happened in those trenches.  Now it's so close to reality that a craven soldier wants his cut.  Only in an Oscar season.
Anyway, I never actually read Boal's piece, so I thought I'd do some digging in the Playboy archives to turn it up.  The publication actually republished it online recently (smart move) and as I dug in this morning, I was transported.  As a guy who fancied a career as a magazine journalist once upon a time, I relished in the world Boal painted.  He's a solid journalist who knows how to put you right smack dab in the middle of the environment he's describing.
Here's a bit of his nut graph and a portion that certainly recalls the particulars of the film:
At last they arrive at an intersection where everything is still. Here the city has stopped dead, pressing itself against roadblocks set up by a Ranger team, and traffic is backing up on both sides of the busy crossroads. This is what the war in Iraq looks like on most days: a traffic jam and a roadside bomb. The war has stopped to wait for Sarver and his fellow techs, the 100-to 150-man counterforce in this theater, who are specifically trained to handle the homemade bombs that now account for more than half of American hostile deaths…

Sarver, 33, in wraparound shooting shades that make his baby face look even younger, takes a second to consider the possibilities: Is it real or a decoy to lure him into the kill zone of a second bomb? Is it a hoax designed only to pull him into the shooting range of a sniper? Is it wired to a mine or daisy-chained to a series of IEDs? Is it wired at all or remote-controlled? Is it on a mechanical timer ticking down? Wired in a collapsible circuit that will trigger the explosion when he cuts it? He runs back to his truck, a few inches of bellyfat moving under his uniform. He keeps his time on the ground to a minimum because it is impossible to tell whether that Iraqi in the dark suit with the cell phone is calling his wife or transmitting Sarver's position to a sniper team. This is a job so dangerous that bomb techs in Iraq are five times more likely to die than all other soldiers in the theater.
Check out the rest over at Playboy.