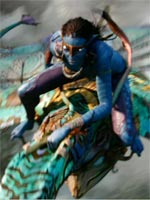 This year, one of the biggest trip hazards for those filling out their office Oscar pool sheets is the Best Cinematography awards. A race with four potential victors (sorry, "Harry Potter" fans) and wildly mixed signals from the precursors, there's less consensus over this one than any of the feature categories.
We'll put the debate to you when we cover the category in our Oscar Guide series on Thursday. Vanity Fair's Claire Walla, however, seems to think she has it sussed out, declaring Mauro Fiore's work on "Avatar" without peer in the race, given that it "completely redefined what it means to make an image." To this end, she discusses with Fiore the challenges of lighting a film produced mostly by technologies with which the DP was uninvolved:
"The most difficult part is marrying those two images," Fiore said of working with a physical set that exists in a virtual world. For a scene that takes place outside a research laboratory on one of Pandora's floating mountains, for example, the physical set consisted of two structures and scattered Pandoran shrubbery. The entire backdrop—including the light source—was represented on set only by a green screen. Fiore thus had to light the characters and structures on set according to where the sun would be had the characters actually been on Pandora and not on a soundstage in New Zealand … "It was tricky because every scene involved some sort of interactive light," he added.
What bearing such innovation has on the race, however, is another question. Whether or not you find Walla's "redefinition" claims hyperbolic, it's clear that not everyone in the industry is on board with the new. Reporting from Saturday's ASC Awards (where Fiore lost to "The White Ribbon" lenser Christian Berger), Steve Pond detected a note of antipathy in the crowd:
Throughout the nearly three-hour ceremony at the Hyatt Regency Century Plaza hotel, participants talked about how cinematography is at a crucial point in its existence, with the digital world epitomized by "Avatar" threatening to supplant the old methods of shooting films … When he accepted the group's Lifetime Achievement Award, cinematographer Caleb Deschanel got a big ovation for making it clear which type of technology he preferrs: "I love the uncertainty of shooting on film and not knowing what you're going to get," he said. "When film goes through the camera, it's a promise, it's an idea … It's a dream."
Pond's account suggests that Fiore might be in trouble if it was only fellow cinematographers voting for the Oscar. Of course, that's not the case. I would wager that the casual Academy member casts their vote based upon the on-screen result, as opposed to the off-screen process.
Not that that makes predicting the outcome any easier, mind: there's a widespread (if not wholly reliable) theory that voters favor the "prettiest" film in the race, but who's to say they'll find "Avatar"'s day-glo palette more aesthetically pleasing than Berger's meticulous monochrome compositions, or Robert Richardson's more classical work on "Inglourious Basterds?" And if "The Hurt Locker" has built enough momentum for a sweep, voters might be inclined to ignore their usual reservations about 16mm in the category.
That cleared things up, didn't it?