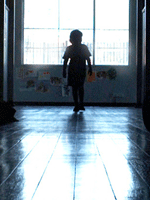 I've received a lot of emails lately asking where people can see the Oscar-nominated.  Generally my answer is, get to a theater.  They have been released by Magnolia Pictures and Shorts International in select (domestic) markets.  But if that doesn't work for some, never fear.  It looks like you can pop open the Pringles and watch them in your skivvies.
The press release, in part:
New York, Mar. 2 – The Academy Award Nominated Short Films are often difficult for film fans to find. Now, for the first time ever, "The Oscar® Nominated Short Films 2010" will be available via cable's Movies On Demand (MOD), presented by Shorts International and Magnolia Pictures. The nation's leading MOD distributor, iN DEMAND L.L.C., will make the films available to U. S. digital cable audiences through Movies On Demand (MOD) starting March 3rd in both standard and high definition. Nominees in both the Live Action and Animated categories will be available on Comcast, Time Warner Cable, Cox Communications and Bright House Networks systems around the country.

Time Warner Cable, Cox Communications, and Bright House Networks will host the films within MOD in an "Award Nominees" category. Comcast customers will find the films within MOD and its "Top Picks" category under the subcategory "Oscar Nominees." Comcast will also be presenting the top live action short film titles from 2009. The cost for these programs varies from $2.99 to $5.99.