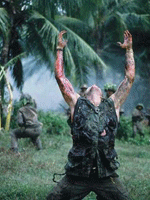 Over at The Big Picture, Patrick Goldstein spent some time revisiting the three "bona fide" war films to win the Oscar for Best Picture (in the last 40 years): "Patton," "The Deer Hunter" and "Platoon." He notes that each of those films, when adjusted for inflation, grossed over $300 million, $280 million and $160 million respectively.  We all know where "The Hurt Locker"'s tally sits.
What he took away from another look was that each film captures modern day ambivalence toward war, which really, the best of war cinema does.  Which reminds me, I caught "Black Hawk Down" again on cable earlier this week (a brilliant film), and certainly the point is driven home there, though in more camouflaged strokes.  When Tom Sizemore sarcastically quips, "Just get it over with," in response to a young soldier screaming, "They're going to get us killed," any notion that the film uses high octane tropes to drum up a sense of "duty" or American flag-waving quickly flies out the window.
But I digress.  All of that is kind of inherent in the drive to make a war film, unless you're talking about a golden age period that saw the likes of John Wayne (who Goldstein reminds "ducked out of the fighting himself") standing up, larger than life, to the identity-less enemies of a nation.
But Goldstein really sticks the assessment landing when he starts in on "Platoon," which, in my cinematic eye, has always felt like a blood brother to Kathryn Bigelow's film:
In the mid-1980s, if "Top Gun" represented an appealing fantasy about the visceral excitement of war, it was "Platoon" that captured the caustic reality.

As David Halberstam, who'd made his name as a Vietnam correspondent and one of the war's earliest critics, put it: "I find it inconceivable that someone who had not been to Vietnam could see this movie and not sense its authenticity and immediately understand why the war was unwinnable."

You could probably say much the same thing about "The Hurt Locker," which captures both the individual acts of bravery as well as the overall futility of the war in Iraq. No matter how you look at it, in the world of Hollywood movies, war is hell, where every stirring act of heroism or grace under fire is undercut by a pervasive feeling of isolation, dehumanization and pessimism. Even "Patton," set in the one war that was actually won, ends on a bleak note, with the grand warrior as a lonely old man, walking his dog.
Check out the rest at The Big Picture.  If "The Hurt Locker" does indeed take the award for Best Picture, how do you think it does, or doesn't, fit in with this lineage?