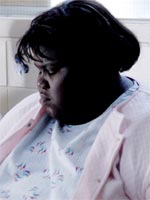 Any discussion of this year's Best Actress category can get so heated, so quickly, I almost hesitate to point you to this, but Nick Davis's meticulous review of the five nominees is too good not to recommend. No critic I know analyzes performance with quite such consideration and generosity.
Here's his case for why Gabourey Sidibe should (not will) take the gold on Sunday:
[T]he first sign that Sidibe was capable of more arrived in her bored but exasperated truth-telling to her school principal about how she got pregnant: "I had sex, Mrs. Lichtenstein," she deadpans, illuminating Sidibe's potential for combing out subtle gradations and conjuring real personality from within the character's perma-gloom. The obstacle and the near-miracle of the performance from this point forward emerge from the fact that Sidibe has a fairly narrow emotional range in which to work (and she holds with conviction to that narrow range, refusing, for example, to be incongruously elated by the arrival of her child), and yet she nonetheless manages to broadcast when Precious is being mischievous, insolent, self-doubting, superior, distractable, suspicious, morbid, or unrelievedly depressed.
As for those of you who care only about the battle between Hollywood's current two favorite leading ladies, he falls on the side of Streep. Wonderful stuff; read the rest here.