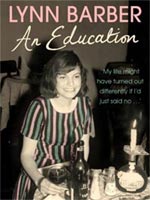 I'm not sure why the Wall Street Journal is reprinting a preface to a book that his been in print for over nine months — indeed, I quoted the very same piece in Page to Screen back in July — as fresh content. Still, if you haven't yet read it, Lynn Barber's reflection on the journey her memoir "An Education" took to screen is worth a look.
Among other things, Barber picks up on the counter-intuitive choice of Nick Hornby, Britain's king of "lad-lit," to adapt this female-focused story:
I also learned that the scriptwriter [producer Amanda Posey] had in mind was her boyfriend -– now husband –- Nick Hornby. This made the whole idea more plausible, especially when I met Nick. I found it odd (still find it odd) that this preeminently 'boy' writer should so completely understand what it felt like to be a 16 year-old schoolgirl who was on the one hand very bright but on the other very ignorant about the world but, miraculously, he did. He even seemed to understand my parents, which is more than I could ever say myself.
She also, probably accidentally, anticipates one of the occasional criticisms levelled at the film when she sympathizes with Hornby for having to take on source material with "no proper ending — it reached a dramatic climax and then dwindled away." Read the rest here; my Page to Screen discussion of "An Education" is here.