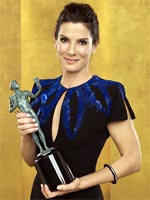 Nathaniel Rogers's annual Oscar Symposium wrapped last night over at the Film Experience, and I must say I had a great time taking part. The final day's conversation wandered all over the map, taking in the original score race (I'm not alone in my love for "The Hurt Locker" there), the merits of The Ten and visions of Mo'Nique in "Nine."
But it had to end with this year's most discussed Oscar duel: Bullock versus Streep. And between us, support was fairly evenly split. As a taster, here's Tim Robey's reluctant case for the "Blind Side" star:
Don't we want Meryl to win her third for a truly epochal performance? … (Make no mistake — I'd happily watch Meryl take the garbage out daily, I love her so, but I really want her to win this thing for absolute top-drawer work.) I don't think Carey Mulligan is ready to be crowned just yet, and I don't think it would actually do her career any favours if she was. Sandy, on the other hand, has just the one shot at this, and I say why the hell not. I've always liked her. I'd have nominated her for The Lake House! (I'm not joking.) And I agree that her Blind Side performance, while entire skyscrapers away from the Brockovich league her spin-meisters would have us believe, is pretty nimble and watchable, and the only thing that got me through that numbskull movie alive.
Good stuff all round. If you haven't been keeping up with the Symposium, read the rest here.