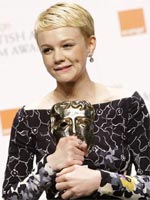 • "The Hurt Locker" continued its cruise through the precursors, taking six awards at the BAFTAS.
• The pile of guild awards grew as the writers, costume designers and sound editors all picked their winners.
• In our ongoing Oscar Guide series, we broke down the lead actress, documentary feature, documentary short, original score and original song races.
• Off the Carpet took stock of a quiet season, mainly just counting down the days.
• More excitable pundits strained to rustle up controversy over some ill-advised campaigning from a "Hurt Locker" producer.
• In a two-part symposium, we spoke to all this year's nominated composers.
• Also joining us for an interview was "In the Loop" writing nominee Armando Iannucci.
• The Berlin Film Festival wrapped, with Roman Polanski and Turkish pic "Honey" among the prizewinners.
• We invited you to debate the merits of Martin Scorsese's divisive "Shutter Island" …
• … which brought the director the biggest box-office debut of his career. Can it stay on top for a second week?
• Kris and Anne fought their fatigue to bring you another episode of Oscar Talk.