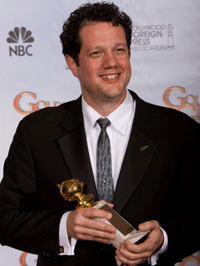 I think everyone who has seen Pixar's "Up" was utterly taken by the scene "Married Life," where emotions ran high and three characters were built between images and music.  As Kris mentioned in this morning's Oscar Guide, composer Michael Giacchino had the full aural attention of the audience for 10 minutes.
Speaking to Giacchino, it's clear he knew it was perhaps the most pivotal moment to get right into a film where music was destined to play a significant role, no matter what. "I remember watching that scene for the first time," he recalls, "and even watching it without music, it makes you cry. You're not just looking at what happens on screen, you're looking at what happens in your life."
He found the scene, and indeed, the film itself, to be quite personal. "You end up analyzing yourself," he says. "It's an emotional experience and when I'm writing music for any good film, I know I can only do a good job when I'm reflecting what I'm feeling. It's like a mirror."
Giacchino loves being part of what he describes as the "Pixar family" and came aboard the film eight months before it was released. "I'm always at Pixar for something," he says, adding that he loves doing the music for their short films as well. "Being at Pixar is like being 10 years old and everyone accepts each other for whoever you are.  It's a wonderful open, honest feeling of being able to say if you don't like something."
Or if, say, you like something a bit too much, like Giacchino's "unhealthy obsession" with muppets.  But it turns out that's an obsession shared by his director on the film, Pete Docter.  But Giacchino wanted to do "Up" as soon as he heard about the premise, though there is no doubt that it is a film particularly reliant on its music.
"It was a movie that required a lot of leaps of faith in a lot of things," he says. "It was a film unlike any I had done before.  But less is more.  A lot of times it's about figuring out where we don't have music.  Sometimes animated films have way too much music.  I feel wall-to-wall music pushes the audience away.  If you give the audience space, when the music comes in, it means something. Sometimes, you write music and later try the scene without it; one of the biggest jobs is to figure out where not to write it."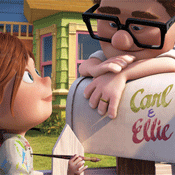 Ultimately, however, our conversation returned to "Married Life," which he feels was not only one of the most challenging pieces to write on the film, but also in his career. "That scene has to work," he says emphatically. "We have to get some honesty into that scene and if it didn't work, by the time there are dogs flying airplines, no one is doing to buy the movie."
Giacchino is not the only nominee this year who has had an amazing run in composing in the past five years. Alexandre Desplat, nominated for another animated effort, "Fantastic Mr. Fox," has been one of the most consistently quality composers in films in recent years – mainstream, arthouse, American, British and French.
Desplat was brought aboard Wes Anderson's latest relatively early in the process. "I can't remember if it was two or three years ago when Wes was preparing the movie and showed me some of the sets he was building," Desplat says, noting that, because of the importance of music in the film, Anderson wanted some compositions early on.
Desplat and Anderson have an especially good working relationship.  And they were friends before they started working, as Anderson, like Desplat, also lives in Paris. "It was great to work with an American director, on such a complex movie, right around the corner," he says. "We have the same passion for detail and we're both passionate about movies."
He notes how the film, despite not even being 90 minutes long, had very mixed emotions during different times. "But I ultimately always tried to keep a sensation of childhood around the film," he explains. "Mr. Fox is like a child who wants to continue chasing his dreams, just like his son in the film is chasing his dreams." Desplat says he tried to bring that into the film, even when the scenes were more comedic or suspenseful.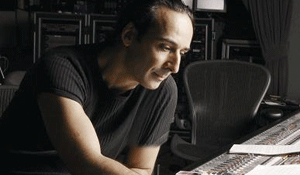 This necessitated using some ways of composing he had never used before. "I had never created a boys choir and so many tiny instruments that came together make an orchestra," he says. "It was a challenge."
Desplat was incredibly busy in 2009, serving as the composer on seven different films.He  describes the experience as "exciting and tiring.  I've been crazy about movies and music since I was 14 or 15, so it's not like I'm going to work. I wake up in the morning and I've got all this stuff I want to put on paper."
He finds the quality of the projects he has worked on have only made the experience more memorable. "Some of the greatest directors on the planet call me," he says.  "I have no idea how I've become so lucky.  Recently I've worked with directors such as Wes Anderson, Jacques Audiard, Roman Polanski and Terence Malick – I'm just so excited when a director calls me."
Perhaps the most surprising nomination in this category – albeit a deserving one – Marco Beltrami and Buck Sanders's recogniztion for "The Hurt Locker."
The duo came aboard just as Kathryn Bigelow was finishing picture editing on the film, and they relished the unique opportunity. "It was a great project for us because there was very little temp score in the movie," Beltrami says.  "So there wasn't a great expectation of mimicking something that had already been done."
Sanders adds that Bigelow was very open to ideas and while she did not go along with what they wanted to do 100% of the time, he enjoyed her "acceptance of dissidence."  He also recalls how the film was particularly unique in that he and Beltrami could not take a traditional approach.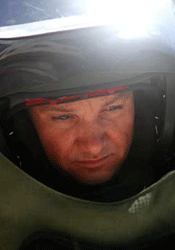 "The score in many instances couldn't be perceived as a score," he says. "We had to do that in the most effective way and that was probably the biggest challenge on it."
Beltrami, meanwhile, says that an effective theme for the central character was particularly elusive. "At first we wanted something more hymnal," he says, "but Kathryn had different ideas and we ended up with an almost western-esque theme."  Given Beltrami's work on James Mangold's "3:10 to Yuma," that's not entirely out of his wheelhouse.
What the duo will most take with them, however, is the extent to which they worked with Paul Ottosson, the sound mixer and sound editor on the film. "Our main goal was to have the score indecipherable from the sound effects," Beltrami explains.  "Paul did not want to hear a cue start or end."
Says Sanders, "It was the most collaborative we've ever been with the sound department.  We wanted to have an almost documentary feel to it."
Beltrami and Sanders, who have worked together for 13 years, say the experience of working on this film has significantly affected the way they will approach future projects.  "I think we're very conscious of the process we developed," Beltrami says. "We seem to be at a new stage into what we're doing and it's become more pin-pointed."
Sanders adds that "no doubt we now realize we're truly working with the sound crew.  Usually the composer isn't at that stage at the final mix. We've been very conscious of sound effects, even on more orchestral-like film scores that we do."
It's clear at the end of the day, however, all four of these composers have brought their unique skills and styles to these very different projects. Whatever the result next Sunday evening, I'm sure all will go on to much more acclaim in the future.
(For part one of the composer symposium, featuring interviews with Hans Zimmer and James Horner, click here.)