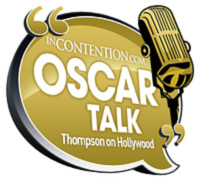 Welcome to Oscar Talk, a weekly kudocast between yours truly and Anne Thompson of Thompson on Hollywood.
Every week inches us closer to the end of the loudest Oscar season of all time. Today Anne and I sit down and discuss the noise of the week, adding our own noise (we went on a bit long this week):
• Leading off, Anne has a whole new reason to hate "the 10": members just aren't bothering with ranking and the preferential ballot, not to mention the rigging and manipulation that goes into making it an impure process.
• Things are getting "hairy," as Anne puts it, with a close race bringing out the worst in people. We talk about "The Hurt Locker" and EmailGate and add some much-needed perspective on the matter.
• We bounce around ideas for dark horse contenders that could benefit from the preferential ballot (assuming it's taken seriously).
• We also discuss the documentary shorts at length (now that I've seen them all) as well as the live action short films (now that Anne has seen them all).
• Finally, we discuss a potential upset lurking in documentary feature nominee "Which Way Home" as well as "A Prophet" in the scheme of the Best Documentary Feature race.
Have a listen below, with a track from James Horner's "Avatar" score leading the way. And as always, you can subscribe to Oscar Talk via iTunes here.
[display_podcast]