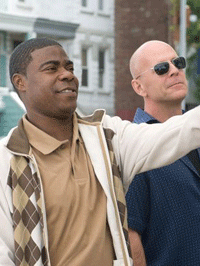 *All historical figures cited are adjusted to today's dollars.
It's the last full weekend before the Oscars. Have you seen all the nominees yet? I sure haven't. In fact, there isn't a single category where I've seen every film and can have an educated opinion. That's not likely to change before the big day since I've been happy to put the 2009 movie-going year to bed for a while.
There's plenty of new joy to be found! Like "Cop Out," the first big budget studio outing from Kevin Smith. Primarily known as the guy behind a bunch of movies your college roommate likes, he is notably absent from all press materials for the Bruce Willis/Tracy Morgan buddy flick.
Willis typically can't open straight-forward action films to very much, unless they have the words "Die" and "Hard" in them. Recent run-of-the-mill efforts include "Surrogates" ($15.2 million), "16 Blocks" ($13.8 million) and "Hostage" ($12.1 million).
There's little to indicate that the addition of Morgan or Smith will take those tallies much higher, particularly since the biggest debut Kevin Smith has ever seen is $14.8 million for "Jay and Silent Bob Strike Back." If only his rabid fanbase could convince a date to join them, his grosses could double. I'm seeing $18 million for this one and a close race for the top with "Shutter Island."
Scorsese's thriller can expect a hefty drop in the 50-55% range, but that would still give it close to $20 million and the win. Anything less than 40% would be phenomenal, ensuring a final gross above $100 million and proving my poisonous word of mouth to be ineffective.
Overture comes into the ring with a horror remake called "The Crazies." I haven't seen an ad for this thing anywhere but apparently Timothy Olyphant is the star. Dumb horror films have been suspiciously absent from most of the year so far so it's possible that there's an appetite for this, but with "Shutter Island" sort of catering to that market already and a novice studio behind the wheel, I can't see anything more than $13 million.
Oscar watchers in major cities can also keep an eye out for nominee "A Prophet," which finally sees a Stateside release.
This will also be the weekend that "Avatar" passes the $700 million mark, joining "E.T.: The Extra-Terrestrial," "Titanic" and "Return of the Jedi" in that exclusive club. And what do all four films have in common? Nothing really.
What are you guys seeing?