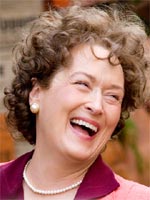 Just when it seems as if pundits and critics alike have run out of fresh things to say in praise of Meryl Streep, A.O. Scott comes along with this beautifully written valentine to Oscar's favorite actor.
The piece essentially amounts to the longest, most eloquent For Your Consideration ad of the season, but even I — a relative agnostic on the merits of the master's performance in "Julie & Julia" (more on that in the Film Experience's Oscar Symposium later today) — was given pause by this very intelligent argument in its favor:
[T]hese days impersonation is the province of every aspiring biopic star. Ms. Streep's Julia Child is never anything other than a performance, a fusion of two strong personalities rather than the absorption by one into another. You never forget that you are watching Meryl Streep inhabiting a version of Julia Child, and instead of distracting you from the truth of Julia, this awareness is what enables you to understand her. It is our familiarity with Ms. Streep that makes her exploration of a more private Julia Child both credible and exhilarating. Similarly in her frequent forays into the world of cinematic statecraft, she can be an entirely convincing senator or cabinet secretary while still being, in every syllable and flourish, Meryl Streep.
Plenty of other quotable passages in the article, but the actress's legions of devotees will be better off reading and savoring every word. Enjoy.