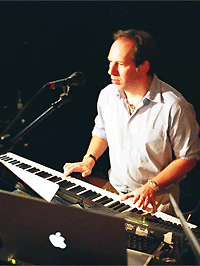 When you're a film music composer as prolific as Hans Zimmer, unique soundtrack flavors can be a bit elusive. But with Guy Ritchie's "Sherlock Holmes," Zimmer found them, pushing the boundaries of what's acceptable with action film scores in the process.
But the work isn't without its inspirations. There seem to be bits of Danny Elfman married with Ennio Morricone, but Zimmer was actually reaching back much further.
"Let me just be German about it," Zimmer says with a laugh. "It was actually the Kurt Weill vibe I was after. But it's sort of all in the family, I suppose. It's fun for me if I can actually go and embrace some of that European stuff again."
The score is a delightful, jaunty construction that relishes in its own peculiarity. The good thing about director Ritchie, Zimmer says, is that he's a bold director who welcomed these slightly "quirky" and "crazy" intrusions.
"There was an enormous amount of thinking about how to do this differently," Zimmer recalls. "It became apparent quickly that Guy and I had similar tastes in music and, in a funny way, what hadn't been done in a movie of this scale. It's all soloists. It's not really orchestral. Every note you hear has a real performance attached to it. You can't really hide it. Everything is very opinionated and bold. It's not the sort of homogeneous sound you get from an orchestra."
Most of the time the track is filled with the sounds of the Hungarian cimbalom, but Zimmer got a kick out of introducing banjos and accordions into a film of this nature. And Holmes being a violinist, there are also plenty of violins added to the mix.
"It's a sort of quirky assortment of instruments," he says. "I was trying to figure out how to use these very old-fashioned instruments and make them current and relevant, and make them work in the context of an action film. What would happen if you played a hip-hop groove on a violin? Would that work?"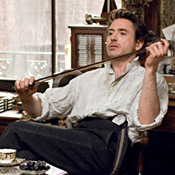 When it came to character, Zimmer was focused on conveying Holmes's intellect in the score. He was trying to figure out the world Holmes was living in, that he was defined by his consistent forward movement and quick intellect.
"So I was trying to do things like quick thought patterns, small motifs running into each other, quick gestures, because I wanted to show how agile his mind was," Zimmer says. "This whole adventure really takes place because of somebody's intelligence. That's cool and that's an interesting thing to show. That's part of why I was getting hold of these soloists, because if you have great musicianship, there's an agility there that you don't really get to witness any other way."
As for a character like Watson, who, like Holmes, is simply less without his counterpart, Zimmer wanted to convey a sort of void in the music. With the villain, Lord Blackwood, the composer calls his themes "basically just a bastardization of the Big Ben theme, nice and pompous, a big English brass band, everything that Holmes and Watson aren't: just full-on pretentious."
The film's first test screening included the full score, which had Zimmer nervous and fully understanding the nail-biting procedure that directors regularly endure. But as more and more people responded, he says he became "cautiously optimistic" that he had succeeded in what he set out to do: push the envelope.
The result is his eighth Oscar nomination do date, and his first in nine years. He won once before, for 1994's "The Lion King."
Talking to James Horner, however, is a completely different experience than delighting in the swift humor of Zimmer. Horner's measured, often times lofty considerations reveal a slightly different perspective but the same understanding of what a composer's job should be.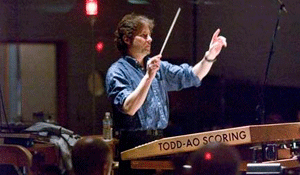 Horner came onto James Cameron's "Avatar" roughly two years ago when the director was beginning to shoot some things that needed source music for the characters to move to. He wrote up some indigenous music for those purposes.
When it came to the nuts and bolts of the film's overall score, though, Horner was charged with conveying the grand emotions Cameron was going for when he conceived a larger-than-life cinema experience.
"He treats music very much as if it were words or part of the storytelling process, so it's a very exacting process," Horner says of his collaboration with Cameron. "He told me what he was planning to do visually and he wanted the music to match that, so the colors I chose would be exotic and very luminous and would go hand-in-hand with what he was doing color-wise. And the 3D nature of what we'd be seeing needed to match what the music was doing."
Horner says that, as a result, he had to come up with a whole "vocabulary" of sounds that really hadn't been used before, vocally or instrumentally. The "musical language," as he puts it, had to be conventional because the storytelling was relatively conventional.
"He didn't want me to suddenly go create avant-garde things that wouldn't mesh with the film as he saw it," he says. "So there was always a fine line of where I could push him to try new and interesting things."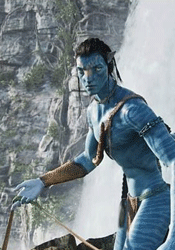 Given the narrative of the film, Horner wanted to give an indigenous quality to the music to help flesh out the serene-like world in which the Na'vi live. "It was a natural choice to use vocals," he says, "but trying to find the right color vocals is very difficult. It was very important that it had that very pure, child-like quality, yet didn't sound Caucasian. It needed to have a native quality and it's very elusive to find just the right thing."
Another element Horner and Cameron discussed was a sense of freedom. The film's central character, Jake Sully, is wheelchair-bound and senses great liberation when he takes to the jungles of Pandora inside his avatar. But it was two-fold, as the Na'vi symbolize a connected but liberated consciousness.
"That was very important," he says. "There's a rhythmic quality that I give to their music, which is sort of liberating compared to the military themes, which are very confining and much more conventional and straight. I wanted to give a kind of spirit to the Na'vi people."
Horner landed his 10th Oscar nomination for his work on the film. He won once before, for Cameron's "Titanic" in 1997.
Check back tomorrow as Gerard rounds out our TECH SUPPORT INTERVIEW series with a follow-up to this piece engaging the other four nominated composers this year: Alexandre Desplat, Michael Giacchino and the Buck Sanders/Marco Beltrami tandem.