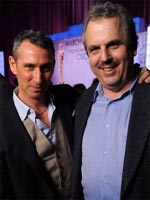 In last Friday's edition of Oscar Talk, Anne Thompson alluded to something of an elephant in the room regarding the upcoming Oscar ceremony: that curiously matched co-producers Adam Shankman and Bill Mechanic are "not getting along."
As whispers to this effect continue to circulate around the industry, the pair have clearly aimed to dispel that notion in this interview with USA Today's Anthony Breznican. Still, while they play up the "odd couple" angle with good humor — Shankman the highly-strung showman balancing out the more pragmatic (and aptly named) Mechanic — they don't make you read between the lines to see the strain:
"It's a meritocracy," Mechanic says. "Whoever has the best idea wins. We haven't had a blow-up. But we've definitely had disagreements, and definitely gotten heated a few times. He got me going one day, probably by mistake …"

"With an e-mail," Shankman says. "As it always is these days."

"At 5:45 in the morning, and I probably didn't read it the way he intended it," Mechanic says. "And I got (angry) and uppity."
With that out of the way, they drop a few more hints about their plans for the show. There's little that you didn't already know or guess — hey, have you heard there'll be dancers? — and they glide inadequately over their rationale for scrapping the Original Song performances. Still, color me morbidly fascinated by the suggestion of some awards being presented within a dance routine. (Will the winner have to step in time as they make their speech?)
More here.