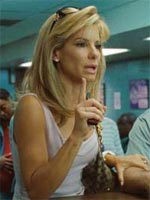 One of my favorite annual Oscar-blog institutions kicked off last night: Nathaniel Rogers's three-day Oscar Symposium, in which six awards "experts" (remove quote marks as applicable) gather to discuss, debate, dismantle and generally disrespect this year's Oscar race.
I'm on the panel this year, but don't let that put you off — Sasha Stone, Karina Longworth, Tim Robey, Peter Knegt and, of course, Nathaniel himself are all on hand with abundant wit and insight. Join the fun here. As a taster, meanwhile, here's Sasha's frightening trip into the mind of a harried voter:
Avatar – no, that one made me nauseous and dizzy. The Hurt Locker. What's the Hurt Locker? What IS a Hurt Locker? Who's in it? Who? Oh. Who's he? It won all of those awards, that's right. I remember seeing an ad about it last night. Huh. Up in the Air, I did see that. It has George Clooney in it. It wasn't bad. Kind of depressing. The Blind Side – that was a really good movie. And Sandra is so beautiful. She was going to star in that film I almost made. Anyway, It was so nice to see someone do something positive. I think I'm going to vote for that one.