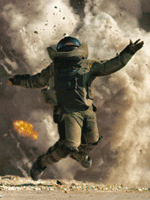 I don't really know why Melena Ryzik is indicating over at The Carpetbagger that the title for "The Hurt Locker" hasn't been explained.  I feel like that was in the water way back around release and even during the Venice and Toronto screenings of 2008, but nevertheless, if you weren't aware, she got Mark Boal's answer at a recent NYC event for the film:
It's a quasi-military term that also shows up around football fields and locker rooms — bro slang, essentially, that's never mentioned in the film. Mr. Boal first heard it in Baghdad. "I was trying to interview a soldier about a bomb that was there, and I was trying to figure out how much explosive charge the bomb carried, how many pounds and how much damage it could do, and he just sort of said, 'Put it this way; if it goes off, it will put you in the hurt locker,' " Mr. Boal told the Bagger. "And I'd never heard that before, and it really sunk in," partly because Mr. Boal was close enough to be put in the hurt locker himself. Mr. Boal and Ms. Bigelow meant to tell the story in the movie's marketing but never quite got around to it, possibly because the movie didn't get much marketing until it began racking up awards.

As a title, "it appealed to me because it gets to a central theme of the film, which is the cost of war and the brutalizing effects of combat," Mr. Boal said. "And so more or less, to be really reductive about it, if you're in Iraq, you're in the hurt locker."
Read the rest, including how Boal's college major informed Jeremy Renner's character's name, at The Carpetbagger.