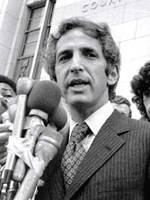 The year's documentary feature category hasn't offered up a lot of suspense so far this season. One contender has been a dominant force on the circuit and the nominations, for the most part, lined up accordingly. A lot of the intrigue, of course, is taken out by the mid-season announcement of a 15-film shortlist, which sometimes has its own shockers (as it did this year).
Voters in this field have to attend screenings of all the nominees, so that can sometimes yield left-field choices that don't adhere to herd mentality. Then again, there are times when one film is too difficult to ignore. We had a year like that last year and it looks like things are heading that way this year as well.
The nominees are:
"Burma VJ: Reporting from a Closed Country" (Anders Østergaard and Lise Lense-Møller)
"The Cove" (Louie Psihoyos and Fisher Stevens)
"Food, Inc." (Robert Kenner and Elise Pearlstein)
"The Most Dangerous Man in America: Daniel Ellsberg and the Pentagon Papers" (Judith Ehrlich and Rick Goldsmith)
"Which Way Home" (Rebecca Cammisa)
As always, it's a diverse mixture of social, political and health concerns, most of the films featuring subjects that serve as touchstones for the audience. There are narratives as informative as entertaining and throughout, a theme of immediacy is at the fore.
"Burma VJ: Reporting from a Closed Country" is in some ways the "Trouble the Water" of 2009. It's a unique glance at a tough circumstance that isn't given to the free flow of information. But it's also unfair to be reductive. In any case, it is a valiant piece of journalism and it's very existence is something of a miracle. An exploration of on-the-ground truths in the country of Burma from video journalists risking their lives to reveal them, the film is an eye-opening, thorough collage of reportage that, if it doesn't get its proper due as a film, certainly deserves commendation as a triumph of DIY media. The film's only hurdle would be a loose structure that is a bit less accessible than the other nominees. Formalism is often appreciated by those who vote on this committee.
With that in mind, "The Cove" is on course to snatch one more prize before its stellar awards season run concludes. By anyone's measure a captivating story well-told, the film reached beyond documentation and even activism, a galvanizing portrait of a complex but dire situation. More than an account of animal cruelty, the film becomes a health concern study and, therefore, a human rights story. It also has the concentrated support of a great many within Hollywood's ranks, making it the front-running favorite with the bluest town around. Things feel frankly more locked in this year for Louie Psihoyos and company than it did for last year's foregone conclusion, so you can double town when it comes to the pools. And the Oscars are the most-watched program on Japanese television.
In most parts the pretender to the above's perceived crown is Robert Kenner's "Food, Inc.," and what a worthy competitor it is. Perhaps the singular document of the film's chosen subject, Kenner's film makes one of the most compelling analytical cases of the lot. It doesn't have the emotional punch of "The Cove," but it certainly leaves no room for debate. What could hurt it is an overall talking head nature that sometimes goes unappreciated by this committee, which tends to prefer stories more so than dissertations. Still, the campaign has been out in force so perhaps cracks are being sniffed out in the frontrunner's armor. But would this film be the one to benefit or is there another emotional contender waiting to grab voters by the heart strings and give a good tug?
If there is, "The Most Dangerous Man in America: Daniel Ellsberg and the Pentagon Papers" is not that film. Truly a talking head piece that is nevertheless a compelling portrait of an in-the-flesh hero, the film is less concerned with narrative than "Food, Inc.," which frankly leads me to believe it will be pulling up the rear as ballots are counted. It's worth pointing out, however, that most of the other films reflect immediate global concerns, while this film is specific to our region, our modern mythology, our justice system and our potential as the flag-wavers of free society. There isn't anything that particularly indicates the zeitgeist, however, and a "life and times" portrait only goes so far when your subject yields such a focused account, so it will have a tough time shining through.
If there is a true spoiler lurking in the bunch, it might very well be "Which Way Home," produced by John Malkovich's Mr. Mudd and a wonderful companion piece to Focus Features' "Sin Nombre," I might add. The film is a life-on-the-road account of child migrants making their way up from South America through Mexico and, hopefully, to America, where maybe they can make enough money to send back to their struggling families. A number of youths are followed and serve as anchors for an at times quite emotional journey, some of them endearing with their street-smart toughness, others heart-breaking for their exposed innocence. More than any film besides the frontrunner, it makes you feel, and those emotions count when you're forced to watch every nominee in order to participate in a vote.
Will win: "The Cove"
Could win: "Food, Inc."
Should win: "The Cove"
Should have been here: "Mugabe and the White African"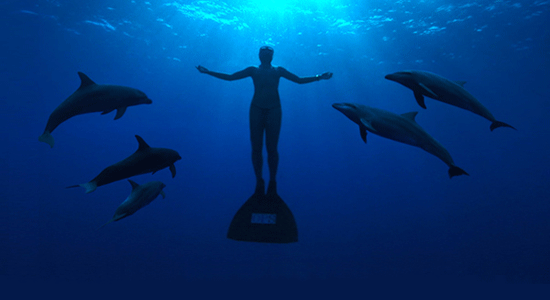 What do you think deserves to win this year's Oscar for Best Documentary Feature? Have your say in the sidebar poll!