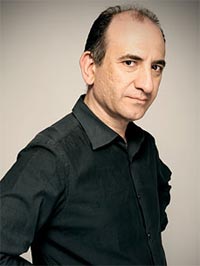 He may currently be basking in the glow of a surprise Oscar nomination, but when I call him up at his London home, "In the Loop" writer-director Armando Iannucci is boasting about another achievement entirely.
"Our family dog just gave birth to three puppies this afternoon," he audibly beams, our opening pleasantries barely cooled. "They're cavoodles, a poodle-spaniel hybrid. You know the Hairy Maclary books?" As a matter of fact, I do, though he's too excited to wait for a response. "They look just like Hairy Maclary. They're lovely."
As I extend my congratulations to the proud mother – on top of those to Iannucci himself – it occurs to me that the topic of hybrid puppies is as appropriate a place as any to start a conversation with this nimble giant of British TV comedy, a man whose writing trades in everyday absurdities and non-sequiturs, whether in the dead-end Norwich media scene ("I'm Alan Partridge") or the considerably more high-powered world of Downing Street politics ("The Thick of It").
It is, of course, the latter – a scabrous satire of the alternately petty and ruthless antics of British government spin doctors – that provides the jumping-off point for Iannucci's first feature film, "In the Loop." Linked to the TV series by the presence of Peter Capaldi's perma-scowling, cyanide-tongued political advisor Malcolm Tucker, the film broadens the canvas by taking on Washington as well as Westminster.
A scarcely-veiled farce on Anglo-American diplomacy in the build-up to the Iraq invasion – no names are named, but none are needed – it's a film that delights in the flexible power of the spoken word, the less printable the better. The Academy's writing branch duly recognized Iannucci and his co-writers – Tony Roche, Jesse Armstrong and Simon Blackwell – with a Best Adapted Screenplay nod, an honour the director has just managed to wrap his head around.
"I think it finally sank in a little bit at the lunch," he says, referring to the annual nominees' luncheon that took place the weekend before last. "It's a very democratic occasion, seeing sound editors mixing with actors, everyone in the same boat. That feeling of 'It's not real, it's not us' went away, only to be replaced by a sudden fear.
"Afterwards, the Academy president stood up to give some advice on speeches, saying you must always prepare something, no matter how little chance you think you have of winning. And then everyone went sort of quiet for a moment. Then you think, shit, we've just been nominated for an Oscar."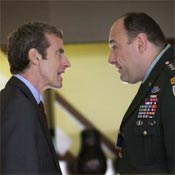 Iannucci could be forgiven for being more incredulous than most of this year's nominees, given that, as he puts it, "we didn't have planes to write our name in the sky." But he never lost sight of the keen core of support the low-budget IFC release enjoyed in States from its first appearance at last year's Sundance festival.
"I knew we had a slim chance, if only because I'd seen how well American audiences responded to the film," he explains. "The film deals with fairly universal office politics – it's not a huge big über-satire. We're so used to seeing Washington politics portrayed as either noble and virtuous, or dark and corrupt. But we show it quite a ramshackle way; at the end of a day, it's a lot of tired, stressed people doing their job. I think people warmed to that."
In this regard, Iannucci does exhibit a measure of compassion for the politicians he gleefully skewers, blaming the relentless 24-hour news cycle for many of their misdeeds. "I'm not interested in criticizing people as much as I am in finding out why they make mistakes, what I would do in their shoes," he says.
"Most of the time, it's because the media doesn't give them any time to think. I think it's odd that Obama was so heavily criticized for waiting on the Afghanistan issue, when he was merely giving himself time to consider things."
Though the film shares a leading character with "The Thick of It," it wasn't initially conceived as a spinoff. "I'd been wanting to make a really fast-paced, knockabout screwball comedy," says Iannucci, citing "The Front Page" and the work of Preston Sturges as key references points. "And after I'd read so much about the Iraq invasion, it occurred me that this was perfect farce material. Only then did I think of using Malcolm as a way to tell it."
Moreover, Iannucci saw the feature film as a medium in which he could test and develop his foul-mouthed fictional creation to a greater degree than before. "Every episode of the series covers just one-twelfth of Malcolm's day, as he moves between 12 different ministries with all these domestic, mundane issues to correct. Here, he's given one bigger issue to deal with, and it becomes a study of a man who's out of his depth for this first time."
As pointed as the film is, Iannucci is at pains not to tie his film to a specific political context: "If you say it's Iraq, then you have to say it's Bush and Blair and everything else. And the truth is, what happens in the film could happen all over again, in Iran for example. It's a cycle."
In mapping out the corrupt dealings of politicos on both sides of the pond, Iannucci prides himself on authenticity – though admits that good fortune can play as large a role there as good research. A case in point: a throwaway line in the film about government ministers claiming expenses for hotel-room porn caused a minor stir in Britain last year when Labour minister Jacqui Smith's husband was charged with that very offense. The filmmakers could hardly believe their luck.
"Some things just fall in your lap," he says. "I've actually had politicians come to me and apologize, because certain corrupt scenes in the film show how things actually happen. And often, it's a scene that we just wrote a certain way because that seemed funniest!"
As for the research, much of that came easily to Iannucci too. "I'd love to say we were engaging in all this furtive, cloak-and-dagger stuff," he laughs. "But the truth is that a lot of the time, if you ask people directly, they'll tell you what you want to know. And so many politicians have now published very candid diaries and memoirs. It's really not difficult – it's just that the media didn't really push that level of inquiry at the time of the invasion."
More challenging was shaping the vast assemblage of information and improvisation into a crisp narrative under two hours in length – the film's first draft was over 200 pages long, while an initial cut of the film ran 250 minutes.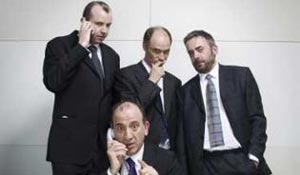 "We had a very well thought-through script, which we'd rough up in rehearsal and then rewrite. It was a bit like making a documentary, in a way – you go into a scene knowing you want to get some things, but there are also so many things that can surprise you in the playing. In the editing room, then, it was about finding quite a traditional three-act farce beneath the language of it."
The film's "language" – specifically, its multiple permutations of a certain four-letter word – has garnered it a degree of affectionate notoriety in Hollywood, though Iannucci insists it's less a signature than a simple approximation of reality. "That how these people speak, but non-stop swearing with just one word can be quite dull," he says. "So we have to be inventive with it."
It's that inventiveness that has carried the "In the Loop" team to a place at the Kodak Theater on March 7, where their jaunty little film will face off against the less irreverent likes of "Precious" (which he humbly describes as "just extraordinary") and "Up in the Air."
"I'm particularly thrilled that we got in as a comedy, since it's not usual for the Oscars to recognize that," he says, expressing surprise that "The Hangover" didn't make the Academy's cut. "I'm happy to be there representing that. We're planning to have a very good time."
Until then, however, Armando Iannucci has some puppies to attend to.