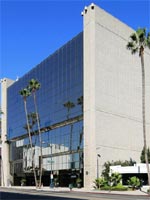 People get so wrapped in the seasonal mechanics of the Oscars, it's easy to forget that the Academy of Motion Picture Arts and Sciences actually has a purpose beyond the doling out of awards. It is, after all, an academy: an nonprofit organization dedicated both to preserving and developing American filmmaking.
The LA Times's Christy Grosz offers a handy reminder of what AMPAS does all year round, and how the Academy Awards — with their $65 million license fee from ABC — essentially fund their activities.
Among the places where that money goes: screenwriting fellowships (Allison Anders and Susannah Grant are previous beneficiaries), college grants, film restoration and archiving of assorted movie memorabilia, with a long-term view toward building a museum of Hollywood history.
Grosz reports:
Although in 2007 the organization consulted an architect and drew up plans for an 8-acre campus adjacent to the existing Pickford Center in Hollywood, the Museum of the Academy of Motion Picture Arts and Sciences has been put on indefinite hold, until the needed construction funds can be raised.

"You can't have a future without a past or a present. You can't forget the people that have come before you," Sherak says. "The board believes that the history of our business is something that will interest people. We are going to build a museum, [but] right now it's on hold."
It's good to keep this in mind when watching the Oscars. As you gnash your teeth over whichever of your favorites loses, or whatever song-and-dance atrocity the show's producers serve up, you can at least take comfort in the fact that some folks, besides the winners, are gaining something from the occasion.