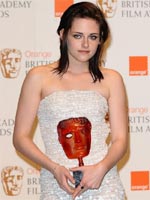 It's almost as if the ratings-hungry Oscarcast producers watched last night's BAFTA sweep for "The Hurt Locker," finally accepted they're going to receive no assistance from the awards, and duly sprung into action.
Right on cue comes today's announcement that Miley Cyrus, Kristen Stewart, Taylor Lautner and Zac Efron will all be presenting on March 7. Perhaps if they add Robert Pattinson, they can present the Best Supporting Actress category together, heartfelt individual tributes and all.
Here's hoping Stewart practises her smile over the next two weeks. Not even a BAFTA Rising Star award could cheer her up last night.