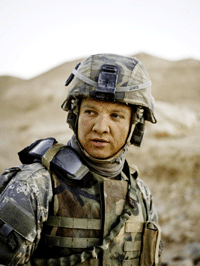 It's been three weeks since I took note of the season's course in this space, and really, there has been no need to put our finger to the wind until last week. And frankly, an author making an ass out of himself in public and Harvey Weinstein sooth-saying anyone who would listen (while an array of fluff pieces on Quentin Tarantino buying the New Beverly hit, a year after it happened) made for little more than an opportunity to fill column inches as we all continue to tread water.
Meanwhile, "The Hurt Locker" has taken the four guilds that truly count, putting it on course for the inevitable. Some are trying to spin the preferential ballot as a non-issue, but that's just they're own way of saying they have nothing to write about. And "Avatar" keeps making money.
I'm frankly more interested in the fact that, as Martin Scorsese's finest film since "Goodfellas" made its way to screens over the weekend, smart critics all over the country somehow turned off their analytical switch to complain about score volume and heavy-handed stylization, completely failing to realize the inherent necessity of the film's construction and mise-en-scène in the participatory narrative Scorsese laid out.
But I'll save all that for roughly a year hence, when I'll inevitably be swimming upstream for yet another misunderstood masterstroke from a popular filmmaker many think has received his share of passes. There is an Oscar season still to cover, after all.
And what a long-winded season it has been — and continues to be. We sit two weeks out and I already feel like the telecast is tardy. And the conclusion has felt a bit foregone for a few weeks now.
Most pundits are having their "Eureka!" moment with "The Hurt Locker"'s BAFTA dominance over the weekend. But things have really been settled since the PGA awards proved the preferential ballot worked in its favor with a group more often given to the intersection of art and commerce on a standard passion/one-vote ballot. That's a bingo.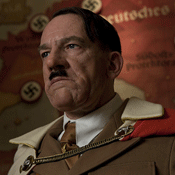 Otherwise, there is plenty to bemoan about the creative direction of the show, though no one is really writing about the two producers being at each other's throats. I'll leave it to the industrious. I just want to be a fan here, and dammit, I'm having a hard time of it. "Dread" is the best word to describe my feelings toward the forthcoming festivities, but I'll try to keep an open mind.
Will there be excitement? Some of the crafts races are certainly neck and neck, but that's not sexy enough for mainstream media headlines. Seven of the eight major categories appear sewn up. And I shouldn't even be hesitating on calling it for original screenplay, too, since most of the "Inglourious Basterds" support comes from a place of fandom (the Academy at large likes the movie, but isn't really taking it seriously). And the last week of tub-thumping on its behalf has rubbed more than a few the wrong way, Mark Boal gaining supporters by the day.
The lead actress race? Plenty want to pump intrigue into that one with this notion or that, but the truth is, a BAFTA win for Meryl Streep would have been an indication that there was a good chunk of support for her. But there just isn't, and not because she didn't give a wonderful performance. She's taken for granted and Sony didn't hit the pavement hard on her behalf during phase two. Meanwhile, Sandra Bullock has a full head of steam and a studio footing a decent bill. Call it.
Are we ready to start talking Aronofsky, Coens, Corbijn, Garcia, Goldwyn, Greengrass, Iñárritu, Liman, Macdonald, Polanski, Russell, Wallace and, frankly, a season that looks to be even weaker than 2008 yet? Getting there.
In the meantime, let's steel ourselves for one more week of the media spinning its wheels looking for a fresh angle on matters.  I can't even get this column to 800 words anymore.  Most ballots are likely in by now (one major studio has already allowed its phase two campaign to run its course), but they aren't officially due for another eight days.  Then, the great settling, as we'll have one more week of one of the longest holding patterns in a season that I can recall.
And no, I'm not bitter about it.  Dry humping is fun, but pointless.  You know?
Related Posts